Star Wars: The Force Awakens Is Adding A New Character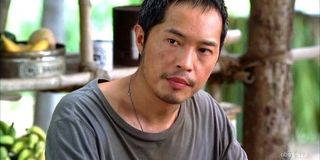 We may be less than six months away from seeing Star Wars: The Force Awakens, but with the many layers of secrecy surrounding the J.J. Abrams-directed space opera, we're still learning about members of the cast. According to one source, veteran TV and movie actor Ken Leung will appear as a high-ranking character.
Star Wars 7 News reports that they have seen "definitive proof" that Leung, who has appeared in Red Dragon, X-Men: The Last Stand, and numerous other notable films and shows, will show up in The Force Awakens. According to the report he was only on set filming for a few days, so his role is likely not particularly large, but it does sound like he'll be a top military official. This report is very unofficial, so, as usual, take it with a grain of salt.
Leung was seen on set wearing a kind of military uniform, one with a brownish, olive hue (maybe khaki) and an orange-ish red belt. From earlier talks with costume designer Michael Kaplan, this sounds like the color scheme of the outfits for the Resistance, which, from what we know thus far, is what the Rebel Alliance is being called in The Force Awakens. So, unless he's an undercover villain, like a member of the First Order (the new form of the Empire) sneaking around, it sounds like he's one of the good guys, though we'll have to wait and see what he's up to here.
Beyond that, his rank insignia is described as looking like an X. Dating all the way back to the original trilogy, the signifier for a general in the Rebel Alliance is demarked by five small dots (they're reportedly using lines in The Force Awakens) arranged in an X pattern. Following this evidence, it appears that Leung portrays a general in the Resistance.
Leung appearing in The Force Awakens makes a certain amount of sense. He was a regular on the J.J. Abrams-created and produced Lost, as well as Person of Interest, which Abrams and Bad Robot are involved in creatively. We know the director is fond of using a rotating stable of actors, including childhood pal Greg Grunberg, who we recently got our first glimpse of as an X-Wing pilot.
Set 30 years after Return of the Jedi, The Force Awakens brings back a ton of returning characters, including biggies like Luke Skywalker, Princess Leia, Han Solo, Chewbacca, C-3PO, R2-D2, and more. This time around, however, they also introduce a ton of ne characters. There's John Boyega's Finn, Daisy Ridley's Rey, Oscar Isaac's Poe Dameron, and Adam Driver's villainous Sith Kylo Ren, among many others. We don't know much about the plot of the film, aside from unsubstantiated rumor and hearsay, but these new additions will reportedly be largely responsible for carrying the banner into the future Episode movies.
All, or at least many, of our questions will be answered when Star Wars: The Force Awakens finally opens theaters on December 18. You have our permission to start getting excited.
Your Daily Blend of Entertainment News
Thank you for signing up to CinemaBlend. You will receive a verification email shortly.
There was a problem. Please refresh the page and try again.