Star Wars: The Force Awakens Just Grabbed Another Major Disney Record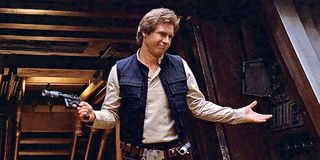 When it was released barely two weeks ago, Star Wars: The Force Awakens roared out of the gates like a juggernaut, demolishing box office records and leaving every other movie sucking on dust and exhaust fumes. But it's not done, not by a long shot. It's now at over a billion dollars worldwide, becoming the fastest movie ever to reach that mark, and it just set another mark for Lucasfilm's parent company Disney in the process.
Finishing up Wednesday with a global running tally of $1.29 billion, $623. 4 million of that came from the domestic market, which, according to The Hollywood Reporter, means it surpassed 2012's The Avengers on U.S. shores. This not only moves it to fourth place on the domestic all-time box office list, but it is good to make The Force Awakens Disney's highest grossing film ever, at least not adjusted for inflation. Considering the Mouse House's rather successful track record at the movies, that isn't too shabby an accomplishment.
Though it still has some ground to cover in order to take The Avengers down at the global box office, with less than $300 million to go, and plenty of momentum, it'll get there before too awful long. Before The Force Awakens takes out the superhero team in a way no big screen villain has been able to yet, it'll have to leapfrog the sequel, Avengers: Age of Ultron and a few others.
This isn't the only Disney title that The Force Awakens is knocking around either. The new total also puts it ahead of their animated mega hit Frozen, as J.J. Abrams, Rey, Finn, and all the rest take over the eighth slot on the list of the highest grossing movies in the history of ever (again, not counting inflation—no one is likely ever going to take down Gone With The Wind in that regard). Like just about everything Episode VII has done thus far at the box office, it's another impressive feat.
Even as Disney downplayed the potential financial success of The Force Awakens, people have been wondering if this is the movie that can overtake James Cameron's Avatar as the biggest movie ever. At the rate it's going, it will overtake the 2009 sci-fi adventure's $760 million total in relatively short order.
The $2.78 billion worldwide total, however, is a different proposition. That's just a bonkers number, more than $600 million ahead of Titanic in the number two position, and more than a full billion ahead of Jurassic World, which currently sits in the number three slot. If any movie is going to hit that mark, odds are it's going to be The Force Awakens, but damn, that's a herculean task if there ever was one.
If you're like us, you've probably already seen Star Wars: The Force Awakens a few times (anyone in double digits yet? If so, high fives all around), but we'll have to wait and see if it becomes the biggest movie ever made.
Your Daily Blend of Entertainment News