Star Wars: The Force Awakens - The Key Thing You Need To Know About The Main Players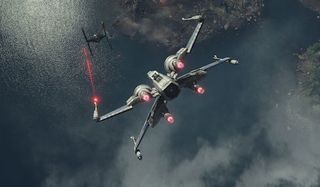 The wait is almost over. At the end of this week, Star Wars: The Force Awakens will finally be in theaters, and people around the world will finally have the opportunity to learn the answers to mysteries that have been hanging around for years. Of course, some of the biggest questions have surrounded both the new characters, as well as the returning classic ones. What is it that is making them really tick in the seventh installment of the sci-fi saga? I recently found out.
When I had the chance to interview the cast of Star Wars: The Force Awakens earlier this month during a special Los Angeles press day, I took the opportunity to ask them all about the key thing they discussed with director J.J. Abrams about their individual characters. Their individual answers all opened up interesting insights to what we can expect from the film's large ensemble, so read on and watch!
Poe Dameron
In his role as Poe Dameron, Oscar Isaac will not only bring a heaping ton of acting talent to Star Wars: The Force Awakens, but also many of its most thrilling moments. Poe is an X-Wing pilot fighting for the Resistance against the tyrannical rule of the First Order, and as you will learn watching the video above, researching the attitudes and personalities of those who fly real jet fighters was a big part of helping Isaac understand exactly what makes his character tick.
A big part of this was also understanding what can be described as Poe's greatest asset and his greatest weakness. He is the most skilled pilot that the Resistance has, and he feels a deep commitment and allegiance to the movement and the battle of good versus evil. Unfortunately, it's this same sense of obligation that, in Oscar Isaac's words, blinds him to certain realities – ultimately putting him in very dangerous situations.
Rey
When Daisy Ridley's character, Rey, is introduced in Star Wars: The Force Awakens, she isn't a member of the Resistance. Much like Luke Skywalker, she is really as far away from the action as one can get, working on a desert planet as a scavenger and just picking up parts from old ships. She has no greater sense of place in the universe, and that was a key element that the actress discussed with director J.J. Abrams. She's not a hero – she's a normal girl. Of course, it will be fascinating to see how that part of her changes as she finds herself thrust into the battle against the First Order.
Equally important to the development of the character, Daisy Ridley also made a point of not labeling Rey, and not even necessarily thinking about her specifically as a woman. Instead, she was encouraged to just look inside of herself, understand what's natural, and determine her appropriate reaction to the situation.
Finn
George Lucas introduced us to Stormtroopers as faceless soldiers who blindly do the bidding of their evil superiors, but John Boyega's Finn will be flipping that script in Star Wars: The Force Awakens. He begins the story as a minion for the First Order, and it doesn't take him long to realize that it's not a life that he wants to lead. But rather than just making the character stoic and serious, the actor and J.J. Abrams made the decision to take Finn in a different direction.
Boyega was fairly vague when answering my question about the key element he discussed with his director, but he did discuss that bringing humor was something that he personally thought was important for the character. Surely there is a version of this movie that could be made with Finn being a more straight-laced guy, but as the young British actor points out, charisma and comedy is just fun to play.
Han Solo
Harrison Ford is, for lack of a better word, a legend in Star Wars history. He was there with George Lucas back in 1977, and his portrayal of Han Solo is unquestionably one of the most iconic of all time. So what was it that he and J.J. Abrams specifically talked about when discussing the actor's return to the character after over 30 years? Well… it turns out the answer to that question is "nothing."
When I asked Ford the same question as his other co-stars, he simply smiled and explained that he never really had any kind of in-depth conversation with J.J. Abrams about a key element of the character. Instead, the actor fully relied on the script that the director co-wrote with Lawrence Kasdan, understanding "what the obligations were to bring life and some degree of truth to expressing those ideas."
Kylo Ren
In his role as Kylo Ren, Adam Driver certainly has some very big shoes to fill. After all, he is the antagonist that is following in the footsteps of Darth Vader – both literally within the film and from an outside fictional perspective. Interestingly, though, the actor chose not to dwell on what was seen in the original trilogy, and instead focus more on finding a reality to the character more in tune with the material that inspired George Lucas to begin with.
Talking about his key discussions with J.J. Abrams about Kylo Ren, Driver noted examinations of the work by Akira Kurosawa, but also found himself drawing comparisons between playing the villain and a real person: "you take the pieces that make sense, and open up your imagination, and then disregard the things that get in the way." Having seen the film, I can tell you that this approach most definitely works, as he's the best part of Star Wars: The Force Awakens.
NJ native who calls LA home; lives in a Dreamatorium. A decade-plus CinemaBlend veteran; endlessly enthusiastic about the career he's dreamt of since seventh grade.
Your Daily Blend of Entertainment News
Thank you for signing up to CinemaBlend. You will receive a verification email shortly.
There was a problem. Please refresh the page and try again.