Star Wars: Rogue One's Official Plot Sounds Like An Action-Packed Blast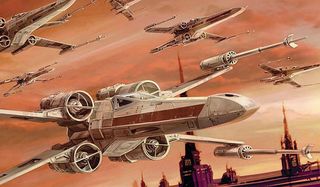 Star Wars fans barely had enough time to pick their jaws up off of the floor from the reveal of the second full trailer for J.J. Abrams' Star Wars: The Force Awakens when they then received official news on Gareth Edwards' non-saga film, Rogue One. So, what will it be about?
This has been the rumored plot of Evans' film for quite some time. There were hints that it was going to be a heist film, with familiar characters from the Star Wars universe popping up as part of an Ocean's 11 team to infiltrate the Death Star and steal the plans that eventually are used by the Rebels to blow up the Death Star in Star Wars: Episode IV -- A New Hope .
To that end, while appearing on stage at Star Wars Celebration in Anaheim, Rogue One director Gareth Edwards (Godzilla) confirmed that this chapter will take place between Revenge of the Sith and A New Hope, and will lean as close as he can to Hope, as it is his favorite film of all time.
The title treatment looked like this:
What else did Gareth Edwards reveal at Star Wars Celebration? It was clarified that John Knoll of ILM came up with the idea behind Rogue One, and pitched it to producer Kathleen Kennedy, who immediately greenlit it. She said there was no way she could turn that "really cool idea" down. Edwards said that because it takes place after Sith, there are very few Jedi, so this really is a story of heroes with no "magical powers" who somehow have to bring hope to the galaxy in a time of turmoil. Edwards said:
It was made clear that the films directed by Gareth Edwards and Josh Trank are going to be Non-Saga films, meaning that they do not connect to the trilogy of films helmed by J.J. Abrams and, later, Rian Johnson. There was a lot of conversation behind the scenes, even with George Lucas, about how these films would stand out. The idea behind these movies is that Star Wars is a place, as much as it is a story, and several threads can be going on in different parts if the same universe. The Anthology Films will explore those offshoots.
Star Wars: Rogue One is due in theaters in December 2016.
Movie junkie. Infatuated with comic-book films. ReelBlend cohost. Resident dad. Extroverted introvert. Wants to see the Snyder Cut. Managing Director at CinemaBlend.
Your Daily Blend of Entertainment News
Thank you for signing up to CinemaBlend. You will receive a verification email shortly.
There was a problem. Please refresh the page and try again.