Star Wars: Rogue One Plot Description May Finally Offer Fans Exciting Specifics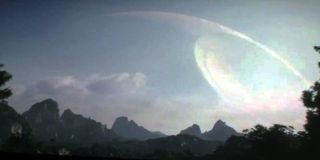 Star Wars is set to have a substantial presence at San Diego Comic-Con this year, which makes sense with Star Wars: The Force Awakens kicking off an expanding new slate of films in December. We don't know exactly what they have in store just yet, but another new report just revealed a ton of new details about Star Wars: Rogue One, the first of the so-called Anthology films.
It should go without saying, but there are potentially huge spoilers beyond this point. Granted, we don't know how accurate this report is or if it's all total BS, but you've been warned. Also, take what you read with a grain of salt.
What we know about the plot of Rogue One involves the stolen plans for first Death Star, a bunch of bounty hunters, and a recent rumor places Darth Vader in the action. Bleeding Cool's sources dropped some information regarding all of those elements, as well as shed some light on Ben Mendelsohn's character and his role. They say:
Many people weren't exactly sure how the bounty hunters that have been rumored to be involved in this story actually fit in, but as goons hired to hunt down the rebels responsible for stealing the Death Star plans, that certainly makes a great deal of sense. And if you were hoping that we would see some familiar faces among this crew, you will be very happy as well.
This group of nefarious characters includes fan favorite Boba Fett will be one of the team (yes, we're going to see Boba Fett on screen again in 2016!), as will others you know from The Empire Strikes Back, including Bossk, Dengar, Zuckuss, 4-Lom, and IG-88. Cad Bane, a character who you might know from The Clone Wars, is also part of the gang, making his first live-action appearance, and the report indicates that there could be some new characters thrown into the mix as well, but we'll have to wait and see on that front.
That is a formidable team to be sure. Presumably one of the people they tussle with will be star Felicity Jones' character, who has been described as a Rebel soldier ready for battle. We like to hear things like this, and this all ties in with what details have emerged about the Gareth Edwards-directed Rogue One. It's been described as a dark, gritty war movie, compared to the likes of Hamburger Hill, and we know that there won't be much of a Jedi presence in the main action, though the threat of Darth Vader definitely looms over everything.
Star Wars: Rogue One is filming now. It doesn't hit theaters until December 16, 2016, but bounty hunters, Darth Vader, Ben Mendelsohn playing the main antagonist? There's so much to like here.
Your Daily Blend of Entertainment News