The Strange And Unexpected Place X-Men: Apocalypse Just Unveiled Its Latest Footage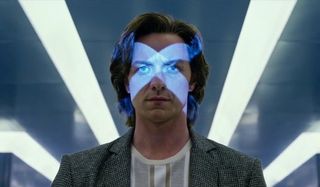 Trailers and TV spots are the only places a blockbuster movie can debut new footage. There are other sources where a new clip or scene could pop up, and in X-Men: Apocalypse's case, they've turned to real estate. Check out the video below to go through an extended tour though Xavier's School for Gifted Youngsters, which will be one of the main locations during the newest X-Men flick.
In the latest episode of Coldwell Banker Real Estate's "Home of the Week" series, they profile the X-Mansion, one of the United States' premiere luxury homes. While touching on the mansion's history and many features, we get new footage of the main characters in the complex and around the grounds. This includes Cyclops being guided by one of the ponds with Charles Xavier, Havok and Beast, and you'll notice that he doesn't have his ruby quartz glasses yet. We also get new looks at Nightcrawler and Jubilee marveling at the X-Mansion's halls, as well as Charles teaching a class in one of the Mansion's many rooms. Coldwell Banker also posted a fictional listing for the X-Mansion, including all its property information, quotes from some of the home's occupants and listing it at $75,850,000. I think it's safe to say that the home is going to stay in Charles' possession for a long time.
Within the "First Class" trilogy period (and excluding X-Men: Days of Future Past's future scenes), this is the first time we've seen Charles' mansion populated by young students. In X-Men: First Class, they used the household and its surrounding land as a training complex to prepare for fighting Sebastian Shaw, while in X-Men: Days of Future Past, Charles and Hank McCoy were the only ones living there after the students had to leave due to the Vietnam War. Now it finally resembles the school we remember from the original movies, where young mutants come to learn how to control their abilities and meet others like them.
Along with the X-Mansion tour, Coldwell Banker also has some standard TV spots showing off actions scenes from X-Men: Apocalypse while showing off the mansion near the end. The first ad shows moments like Psylocke and Beast fighting, and Cyclops shooting his optic blasts.
Here's the second one, where we see moments like Angel launching his his deadly metal-feathered projectiles and the newly bald Charles Xavier.
X-Men: Apocalypse arrives in theaters on May 27, but if you happen to be a billionaire looking for a new place to live, maybe you should get in touch with Coldwell Banker over getting a tour. Just prepare for a lot of weird sights while walking around. I hear one of the folks there is covered in blue fur.
Connoisseur of Marvel, DC, Star Wars, John Wick, MonsterVerse and Doctor Who lore. He's aware he looks like Harry Potter and Clark Kent.
Your Daily Blend of Entertainment News
Thank you for signing up to CinemaBlend. You will receive a verification email shortly.
There was a problem. Please refresh the page and try again.