The Super Troopers Mustache Update You've Been Asking For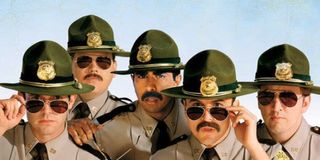 Super Troopers 2 has long been promised, but now its makers are giving us the update true fans have been awaiting with bated breath. Those marvelous mustaches will return with the world's worst police force.
Speaking with US Magazine, Super Troopers co-writer/co-star Steve Lemme promised:
Along with Steve Lemme, Broken Lizard's Jay Chandrasekhar, Kevin Heffernan, Paul Soter, and Erik Stolhanske are anticpated to return for Super Troopers 2. But mustache updates are all that Lemme is leaking in regards to the sequel's contents. Asked about what the Vermont state troopers from the first film would be up to this time around, Lemme was coy, saying, "I think it's one of the more unique and interesting stories I've seen in awhile. But the movie picks up pretty much where we left off in the first one. It's a few years later. The biggest difficulty was trying to top that opening scene, which so many people have complimented us on. I think we've done it."
Super Troopers came from the Broken Lizard comedy troupe back in 2001. Made for just $3 million, the bad cop comedy pulled in $18 million for Fox Searchlight. While that wasn't enough to inspire ardent sequel talk, the eventual cult status that this hard-R comedy earned over the years has been enough to resurrect the possibility.
We first reported on Super Troopers 2 in the summer of 2012, when Chandraskehar and Heffernan confessed they were persuing the matter with Fox. By July of 2013, Lemme and Heffernan were talking up the sequel once more, as Broken Lizard had "sealed the deal with Fox." The pair who played Mac and Farva in Super Troopers were so confidant that they promised production on Super Troopers 2 would begin by year's end. But now it's 2014 and still no start date for Super Troopers 2 has been announced.
More than a year clicked by before another update came from The Broken Lizard crew. Finally last August, Jay Chandrasekhar, who helmed the first film while playing Thorny, hinted at the delay. Citing that the film would be launching a Kickstarter campaign, he implied that budget was the cause for the delay in Super Troopers 2 kicking it into gear.
Picking up where Chandrasekhar left off, Lemme clarified the Fox deal to US Magazine. Fox Searchlight is set to distribute the finished film, but it won't be kicking in to make Super Troopers 2. Broken Lizard needed to raise their own funding. But according to Lemme, they are nearly there. Kickstarter may still be employed "to raise the last little bit."
Pre-production on Super Troopers 2 is slated to begin this November. If all goes according to plan, Broken Lizard is looking to lens the sequel in the beginning of 2015.
Your Daily Blend of Entertainment News
Staff writer at CinemaBlend.
Your Daily Blend of Entertainment News
Thank you for signing up to CinemaBlend. You will receive a verification email shortly.
There was a problem. Please refresh the page and try again.