Taylor Lautner's Six Pack Replaced In Northern Lights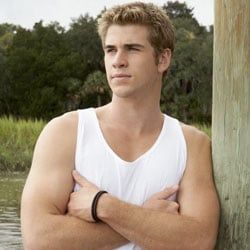 The bright side of Taylor Lautner taking a pass on your film? Not having to pay someone $7.5 million to star in it. David Ellison is hoping to borrow Miley Cyrus' man for a bit so he can take the lead role in Northern Lights, the spot left vacant by Hollywood's highest paid teen actor. If he bites, Liam Hemsworth will play an aerobatics pilot who butts heads with his wealthy controlling father. And, of course, he'll have a girl in his life, a little lady pilot.
With just one directing gig under his belt, it seemed a little odd to permit Ellison to let such a massive amount of cash ride on just one actor. Then again, Lautner does have the ability to make the girlies scream no matter what ludicrousness he's doing in The Twilight Saga. Still, Hemsworth is a nice and economical option.
But the deal still isn't solidified. According to Deadline's sources, "It's scaring some actors off because David has written himself a big role in the movie which he's also financing." That insider steals the words right out of my mouth and follows up the information with this, "What, you're going to work for your co-star who doesn't have a big body of work? I've never seen anything like this before."
Back in January Deadline reported the film was set to shoot on April 1st, but clearly that never happened. On top of that, there was talk that Tom Cruise was the man playing daddy douche bag, but that turned out to be a major misprint. This whole thing is starting to sound more like a high school drama than an airplane action film.
Your Daily Blend of Entertainment News
Staff Writer for CinemaBlend.