If There's A New Cheech And Chong Movie, Cheech Will Direct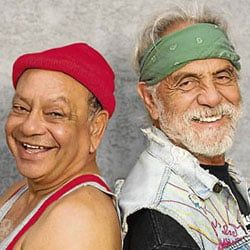 After a successful string of comedy albums, Cheech Marin and Tommy Chong opted to switch gears and hit the big screen. From there we got Up in Smoke, Cheech & Chong's Next Movie, Nice Dreams and many more. A tumultuous time for the duo led to a lull in output, but with the rough times long gone, Cheech and Chong are back and powering forward with new material.
While out promoting his latest film, The Perfect Game, Marin shared a surprising response when asked if he had any interest in directing. "Actually, if we do the next Cheech and Chong movie I'm going to direct that." He added, "They're still writing it right now. Tommy's doing most of the writing because we've decided to divvy up the chores."
No, the choice to take care of certain elements solo didn't have anything to do with leftover angst. In fact, Marin explained that they're time apart taught them about how they'd work best together. "He'll write it and I'll rewrite it and then I'll direct it and he'll try to redirect it. [Laughs] We've come to a stage where we both recognize what our best talents are individually and together and to learn how to talk to each other. I think that's one of the things we learned from the separation of all those years." Marin also joked, "It's amazing working with someone for that long, taking off longer than we were together and then coming back to do it because there's no threat of, 'Well, if you don't do it my way I'm gunna quit.' We already did that."
Clearly this idea is only the very early stages of development, but who could argue with another Cheech and Chong project? Hopefully more information will come our way soon, but, in the meantime, keep an eye out for Cheech and Chong's Hey Watch This, which is set to have a limited theatrical release, hit DVD/Blu-ray, be available online and at stores simultaneously on April 20th.
Your Daily Blend of Entertainment News
Staff Writer for CinemaBlend.