Tom Hardy's Odds Of Becoming James Bond Just Improved, According To Gamblers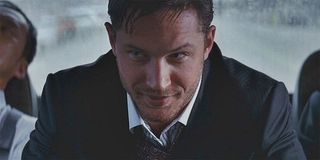 Even though Daniel Craig hasn't actually said he's done playing 007, British bookmakers have already been working hard to determine the odds for who his replacement should be. This past summer delivered word that Homeland star Damian Lewis is the top contender for the part, but now new numbers are suggesting that Tom Hardy is rising in the ranks to pick up a martini glass and PP7.
According to the Irish betting website Boyle Sports, Tom Hardy's odds have now been shortened from 6/1 to 4/1 for him to become the new 007. This is a significant improvement over his last placement, but the Mad Max: Fury Road star still finds himself in third place – trailing behind both Idris Elba and Damian Lewis (bookmakers deeming that they're at the top of the betting at 3/1).
If you don't fancy Idris Elba, Damian Lewis, or Tom Hardy as the new Bond, you don't necessarily have any reason to worry – and not just because these odds aren't really official in any way. As it turns out, the bookmakers are also keeping Henry Cavill and Michael Fassbender in the race as well, with the Man Of Steel actor currently 4/1 as well, and the Steve Jobs titular lead at the very reasonable 6/1. Meanwhile, Orlando Bloom and Christian Bale are both rank outsiders for the part, with odds at 25/1 and 50/1, respectively.
Going back to what I was saying earlier, though, Daniel Craig hasn't actually confirmed that he will be quitting as James Bond after the release of Spectre in November. It's true that the actor has recently gone on the record saying that he may not be interested in doing another Bond movie in the future, but the reality is that he actor's version of 007 is easily one of the most popular of all time, and MGM and producers Barbara Broccoli and Michael G. Wilson will do absolutely everything in their power to lock him up for future adventures beyond his fourth feature as the British superspy.
But let's not let reality stop us from having our own fun, because it is worth guessing who would be the ideal replacement for Daniel Craig once his time is officially up. Truthfully, Mr. Thomas Hardy would actually make a solid choice, and it's worth mentioning that he has previously admitted to Sky News (opens in new tab) that he'd instantly consider the part.
Not only has the brute of an actor made his presence felt in the likes of Dark Knight Rises and Mad Max: Fury Road, but there's also a rugged Englishness about him that would suit itself very well to the character. And with Bronson, Inception, and RocknRolla,, Hardy's proven that he could return Bond to a more cocky and humorous angle that has gone missing since Craig rebooted him with 2005's Casino Royale.
At the moment, this is all purely conjecture, and rather than speculating over who might eventually replace Daniel Craig, we should be anticipating his upcoming portrayal of James Bond opposite Christoph Waltz, Lea Seydoux, Ben Whishaw, Monica Belluci, Naomie Harris, Dave Bautista and Ralph Fiennes in Spectre. Especially since its November 6th release date is now nearly upon us, and looks rather incredible.
Your Daily Blend of Entertainment News
Thank you for signing up to CinemaBlend. You will receive a verification email shortly.
There was a problem. Please refresh the page and try again.