Trailer For Maggie Gyllenhaal's Vibrator Comedy Hysteria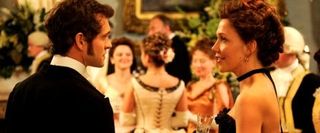 The phrase "Maggie Gyllenhaal vibrator comedy" is sure to get attention anywhere, and that kind of attention is even more important at a film festival like Toronto, where there are dozens of high-profile, star-studded movies jostling for the attention of moviegoers and critics. So good on Hysteria, the aforementioned "Maggie Gyllenhaal vibrator comedy," for following up on its catchy premise with a jaunty and charming trailer, released today by the TIFF office and available for your viewing, er, pleasure below.
As you can tell from the trailer, Hugh Dancy is actually the movie's main character, a young, perfectly attractive young man who has the misfortune to live in Victorian England, when the female orgasm was considered a medical procedure. Lucky for him he's also crossing paths with Gyllenhaal's character, who seems a lot saucier and more confident than her contemporaries. I wonder if the entire movie will be as coy about mentioning words like "vibrator" and "orgasm" as the trailer is, or if they're just being cute to play off the Victorian setting and fluffy tone of the trailer. Either way, this looks like the kind of light, enjoyable festival film that you sometimes need when you've spent the day slogging through obscure foreign films or whatever this year's grim Oscar hopeful is. The movie also stars Jonathan Pryce, Rupert Everett and Felicity Jones, meaning even if the movie is only so-so, it's packed with actors who are more than worth spending an hour or two with. <
Staff Writer at CinemaBlend
Your Daily Blend of Entertainment News
Thank you for signing up to CinemaBlend. You will receive a verification email shortly.
There was a problem. Please refresh the page and try again.