Tron 3? Here's What Garrett Hedlund Says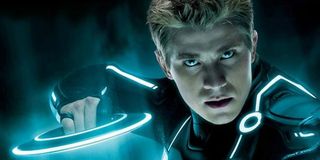 Anyone who has been waiting for Tron 3 will be fully aware that it has been stuck in cinematic purgatory for several years now. Over the course of the last year, Tron 3 went from being confirmed - with even a production date announced – to being surprisingly pulled from scheduling with very little explanation. But Garrett Hedlund still holds faith that there will be a Tron 3, and he thinks it's going to blow its predecessors out of the water.
I spoke to Garrett Hedlund today as he promoted his upcoming turn as a young Captain Hook in Pan. The discussion soon turned to Tron 3, as I looked to get a clearer picture of what the status is with the film. From our conversation, it was clear that Hedlund wants to proceed with the franchise, and he believes that the potential is definitely there to exceed 1982's Tron and 2010's Tron Legacy. Hedlund explained,
From Hedlund's quotes, it sounds as though, alongside the actor, everyone who was involved in the making of Tron Legacy is just as eager to jump back in the franchise. Sure, he failed to mention any names specifically, but one can only imagine that he was referring to Olivia Wilde and Jeff Bridges.
Work on the sequel to Tron: Legacy had actually begun before it was released back in October 2010. There was even speculation that Tron 3 itself would be the beginning of its very own trilogy. However, as the months turned into years the project started to be hit by more and more roadblocks.
Close to 18 months later it was confirmed that writers were still working on the story and script for the follow-up. It was then revealed in summer 2011 that Eight Below writer David DiGilio had been brought on to draft a script for the film.
Things started getting murkier and murkier after that, until March 2015 when it was confirmed that Disney had greenlit the third film, only for the studio to completely change their minds just two months later.
Garrett Hedlund's comments suggest that there could still be a future for the Tron franchise, and if Pan performs well when it's released on October 9th, then that could possibly convince Disney that he has the box office appeal to bring the film out of hiding. Again.
Your Daily Blend of Entertainment News
Thank you for signing up to CinemaBlend. You will receive a verification email shortly.
There was a problem. Please refresh the page and try again.