Underworld 3 Spends Beckinsale's Paycheck On Sets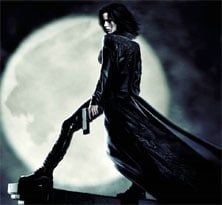 Underworld 3 may not have Kate Beckinsale, but that doesn't mean it isn't going to big budget. Underworld: Rise of the Lycans has been filming in New Zealand, and Sci Fi Pi scored a set visit. Big things are happening in the land of hobbits.
The film is currently being shot in a warehouse somewhere in Auckland, a warehouse which is apparently packed with spendy sets. "We can confirm that the production values of sets and costumes are extremely high, the story is bold and the pedigree is pure," they say. "The sets are immense… Cool things to get excited about are new and sexy vampire armour, Mitra in kickass form, big battles and a bold and brutal style to the film that pays homage to the original flicks, but takes the Underworld saga into new territory."
But will anyone show up to see it? Rhona Mitra looks a lot like Kate Beckinsale, but as the box office totals for her new movie Doomsday this weekend demonstrate, she's not exactly a draw. They'll need big budget effects to suck fans back in, and it sounds like Underworld 3 will have them.
Your Daily Blend of Entertainment News