Unknown Kenny Wormald Chosen To Star In Footloose Remake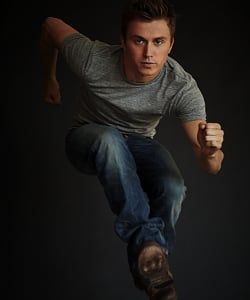 Paramount's remake of Footloose was a revolving door of actors and directors for a while there, as director Kenny Ortega and stars Zac Efron and Chace Crawford signed on and then bailed before Hustle and Flow's Craig Brewer finally stepped in to handle things. With the pool of singing and dancing name-brand teen actors pretty much exhausted, Brewer and his team decided to seek out an unknown, which is how we are now coming to meet Kenny Wormald.
Deadline reports that Wormald, who is handsome and a former backup dancer for Justin Timberlake, will step into the role originated by Kevin Bacon, with Julianne Hough, Dennis Quaid and Miles Teller rounding out the cast. Producer Craig Zadan hilariously stepped into hyperbole when he said of Wormald, "When we discovered Kevin Bacon in 1984, we were both excited and gratified – and also knew the chances of ever duplicating that effort was a million to one shot. Decades later Kenny Wormald proved history could repeat itself.'
Movieline actually dug up a video of Wormald from something called DanceLifeTV.com, and hoo boy, unless this remake is going to be set in Quincy Mass., Kenny's got some dialect coaching ahead of him. He looks charming and cute, though, and so long as he's got the dancing skills to back it up, they can probably pull together a movie around this guy.
Your Daily Blend of Entertainment News
Staff Writer at CinemaBlend