Video From Tron: Legacy's Massive WonderCon Event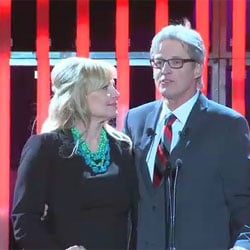 Tron: Legacy went viral again this weekend with a big, big event at San Francisco's WonderCon. You'll remember that last year during Comic Con they sent fans on a treasure hunt which led to a recreation of Flynn's Arcade and an unveiling of a real, life-size lightcycle. This event lacked some of the flair, but made up for it with star power.
The videos below detail everything that happened during the event. Encom staged a press conference and Bruce Boxleitner showed up in character as Alan Bradley, accompanied by his wife Lora (Cindy Morgan), to speak. Things seem to be going pretty well, until Flynn Lives protestors storm the stage and a mysterious figure (later revealed to be Sam Flynn himself) parachutes out of the sky. You've got to love the amount of effort Disney has put into this and the way the cast seems to have embraced the whole thing.
Watch all the action in the following two videos just released by the Tron: Legacy viral site Flynn Lives.
Your Daily Blend of Entertainment News