Video Interview With Spider-Man: Turn Off The Dark's TV Carpio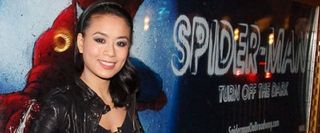 You've read about it in the tabloids, seen it on the news and read the reviews, but now it's time to learn a little something about Spider-Man: Turn Off The Dark straight from one of the show's stars, TV Carpio. Name sound familiar? You might remember her from another Julie Taymor production, the 2007 film Across the Universe. After belting out a fantastic rendition of The Beatle's "I Want to Hold Your Hand" in that film, it's really no wonder that Carpio has made her way to Broadway.
Actually, this isn't Carpio's first appearance on the stage, but this is her very first starring role. When the Spider-Man previews began, Carpio played the role of Miss Arrow, one of the members of the Geek Chorus, four comic-loving kids watching on as Peter Parker becomes Spider-Man and battles the villains. Well, now, Carpio is one of those villains. Natalie Mendoza's exit left the primary role Arachne wide open and Carpio assumed the position. Not only does this mean far more stage-time for Carpio, but it also means far more "dangling."
With the show's March 15th premiere fast approaching, Carpio is in full Spider-Man mode, as she has been for quite some time, and was thrilled to tell us all about the experience. Of course, that experience involves some ups and downs, but Carpio's adaptability, optimism and confidence in the production keeps her striving to do the best work possible and make the show a memorable experience. Check out what Carpio had to say about working with Taymor, switching roles, the controversial issues and more.
Your Daily Blend of Entertainment News
Staff Writer for CinemaBlend.
Your Daily Blend of Entertainment News
Thank you for signing up to CinemaBlend. You will receive a verification email shortly.
There was a problem. Please refresh the page and try again.