Vin Diesel's Kojak Movie Is Definitely Happening, Here's The Latest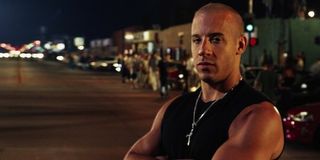 Telly Savalas may not be around anymore to remind you, but it's becoming abundantly clear that Vin Diesel certainly loves ya, baby. It's been in the works for a while, but the Fast & Furious franchise star's feature film remake of Savalas' most famous project, Kojak, is still moving forward, and the big screen adaptation has hired a new screenwriter.
According to Deadline, Philip Gawthorne has been hired to construct a new draft of the Kojak script for Diesel and Universal. A playwright with a history of writing for British television with shows like Eastenders, Casualty, and Waterloo Road, Gawthorne is also currently working on a remake of Vincenzo Natali's twisted 1997 sci-fi thriller Cube for Lionsgate, as well as a spec medieval action flick called World Breaker.
With all of this on his resume, it's going to be interesting to see how he brings a tough, no nonsense detective to life. Originally running on CBS from 1973 through 1978, Kojak followed the titular character, the bald-headed, lollipop-sucking cop Theo Kojak, memorably portrayed by Savalas, as he navigated the mean streets of 1970s New York City with style and attitude. Stubborn and tough, in both his personal and professional lives, Kojak is really a precursor to modern day onscreen police officers. He had a sharp wit and isn't averse to bending the rules on occasion when it's in the pursuit of justice. His signature lollipop came about as a way for the character to cut down on his smoking habit.
Gawthorne isn't the first writer to take a whack at this material. Neil Purvis and Robert Wade, a duo with their fingers in the recent James Bond adventures Skyfall and the upcoming Spectre, hammered out an earlier draft. As with most films of this ilk, the action will be transported to the modern era, probably insert way more high-octane action into the mix, and Diesel will both produce and star in the update.
This won't be the first update of Kojak released into the world. Back in 2005, USA aired the one and only season of a version starring Ving Rhames. He brought back his predecessor's catch phrase, "Who loves ya, baby?" but it was to no avail as the series only ran for nine episodes.
For now we'll have to see how this fits into Vin Diesel's increasingly busy schedule. Later this year we'll see him in The Last Witch Hunter (he's even teased a sequel already), he has commitments to Marvel with Guardians of the Galaxy, he'll work with Ang Lee shortly with Billy Lynn's Long Halftime Walk, and then there's that little Fast & Furious franchise he's a minor part of. Oh yeah, and he still plans to make xXx: The Return of Xander Cage, a sequel no one really expected to happen. And somewhere, somehow, he still intends to fit Kojak in there. I just hope he keeps the stylish hat.
Your Daily Blend of Entertainment News