Wait, Did George Clooney Lie About Circulating A Petition To The Studios?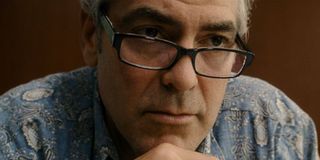 About a week ago, George Clooney had claimed that the big names in Hollywood were only hurting the recent Sony scandal by not helping to prevent it. When Sony decided to pull The Interview from theaters, Clooney attempted to be a voice of reason by creating a petition with his agent to stand strong against the hacking and sent it to all of the big studios and executives in the entertainment industry. Or so he claims. Because recent news is proving Clooney's story to be a big lie. Representatives from five studios have spoken, and say that they never even received the petition Clooney claims to have sent.
In a recent interview with Deadline, Clooney claimed that his peers in the industry were basically chickening-out. He read a petition that he insisted his agent had sent to all of the studios, networks and businesses that have a voice in the entertainment industry. The petition asked Hollywood to support Sony in not submitting to hackers demands, to stand together, and strong without fear. But, Clooney claimed that not one person would sign the petition. He wouldn't say specific names, but he said everyone was too afraid, that maybe if one person had signed then others would follow suit, but no one ever did.
Clooney's story was a big jab at all the heads of the industry, calling out their lack of strength. The story got a ton of press, because it showed that there were people in Hollywood that disagreed with Sony's decision. And there were others expressing their own opinions on the matter, but this was a clear written-out statement, that supposedly asked for backing, that was shut down. It was a big deal, that now seems to be completely falsified.
Representatives for five major studios contacted, The Hollywood Reporter stating that their top executives never received Clooney's petition. Top executives from 20th Century Fox, Disney, Universal, Lionsgate and Warner Bros say they were never approached or contacted to sign a petition by Clooney or his agent. One anonymous studio head told THR:
Of course Clooney offered a different story, telling THR that they asked for support on the petition which everyone pretty much said flat-out "no" too. Clooney claims that there was a letter sent from the head of the MPAA which was to be circulated, which Clooney and his agent rewrote and sent back, including support for the release for the film. This letter was also the petition sent to the studios. Reps from studios say they were approached by Sony Pictures CEO Michael Lynton to sign an MPAA-backed letter, but it was completely different from the one Clooney described in his Deadline interview.
Many high ranking executives claim they probably would've signed Clooney's petition, had they seen it, because of the good points it made. So why did Clooney lie? Well, whether it was true or false, the story was heard. And because of the backlash that occurred after Sony pulled The Interview out of theaters, they had to rethink their decision. So much so that they changed their minds and released the film today in select theaters.