Wait, Warner Bros Commissioned How Many Different Wonder Woman Scripts?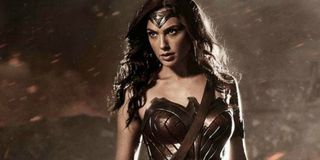 DC currently is hard at work trying to perfectly craft and bring together their impending cinematic universe. In fact the studio is looking to make sure that they have all of their bases covered by allegedly hiring six different writers to simultaneously write six different scripts for 2017's Wonder Woman.
This rather unique and costly strategy came to public consciousness after screenwriter Arash Amel took to his Twitter account to inform his followers:
But, if this is true, which writers have been given the opportunity to provide the script for Michelle MacLaren's film? Well, according to Screen Rant, Jason Fuchs, who wrote Pan for Joe Wright, was recently brought in to work on one on the scripts. There's also a good chance that Michelle MacLaren will also try her hand at one of the screenplays too. Having worked as a director on two of the most tightly scripted television programs in the history of the medium, in the shape of Breaking Bad and The X-Files, she will be well-versed in how to perfectly form a screenplay. However, the fact that she has only worked in television as a director, and hasn't had one of her scripts make it to either the big or small screen since the 1999 television movie A Song From The Heart, means that DC probably would like her to focus her attention on her directing duties, instead.
Other than that, though, we're stumped for who else is currently working on a Wonder Woman script. David S. Goyer might have had a dabble because, you know, he loves writing comic-book films. While Chris Terrio is also a possible candidate, as he wrote Batman V Superman: Dawn Of Justice's script, which will introduce Wonder Woman to the universe. Thus, there's a chance that he might have been asked to try and expand her character for her debut solo adventure. But that is purely just guesswork on my part.
There is also a little bit of controversy over Warner Bros. and DC's decision to create their film in this fashion. While Arash Amel has speculated that only one of these scripts will eventually be selected for Wonder Woman, Badass Digest's Devin Faraci took to his own Twitter account to declare: "Story I heard is they merge the scripts." Either way, the studios will certainly have plenty of options to mull over once all of these scripts have been handed in. The worry is, though, that if they do try to amalgamate all of these screenplays together Wonder Woman's tone and voice could end up being uneven. At the moment though this is still all speculation. It's probably best to take it with a grain of salt, and save the anger and vitriol for when DC actually confirm their plans for Wonder Woman.
Your Daily Blend of Entertainment News