Watch Anna Kendrick Challenge James Corden To A Pitch Perfect-Style Riff-Off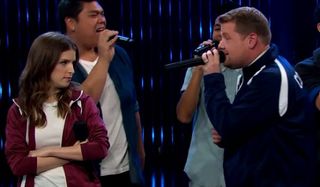 Anna Kendrick showed up last night on The Late Late Show to take on a rumor that James Corden was the best a cappella singer in town. Kendrick, otherwise known as Beca of the Barden Bellas in Pitch Perfect had to put that rumor to rest, and boy did she show Corden up. Take a look:
In true Pitch Perfect fashion, Anna Kendrick challenged her Into The Woods costar to a good ol-fashioned Riff-Off. For those of you who aren't familiar with the contest, it is singing battle where a capella teams are given a category to compete with, and must sing songs on the spot within that category. In Pitch Perfect they often each song often rolls into one another.
This time around, Kendrick brought the fire. Her confidence and track jacket were a force to be reckoned with. But as Corden took the stage (in his own personalized track jacket) he was just as ready to bring it. And to help make matters even more exciting out came The Filharmonic, an a cappella group featured on the reality competition The Sing-Off, but also appearing in the newly released Pitch Perfect 2.
The entire video of the Corden and Kendrick's exchange is absolutely hysterical. From Kendrick interrupting Corden's monologue to her flawless transition to "Get Out The Way", Kendrick most definitely won this round, but not without a challenge. Corden started strong with N'Sync's "Bye Bye Bye" but Kendrick's version of Pat Benatar's "Love Is A Battlefield" was just flawless. The two agreed to come together in unison for a fun rendition of Vanilla Ice's "Ice Ice Baby", so in the end, we're the winners for getting to witness this talented sing-off.
And that the two actors are, talents. While Kendrick and Corden were obviously in on the bit, which helped to promote Pitch Perfect 2 as it hit theaters yesterday, the two have shown off their vocal range in more serious tones as well. Both actors had starring roles in the Disney fantasy musical Into The Woods last year, which featured Corden as a cursed baker and Kendrick as Cinderella. The duo interviewed many times promoting the 2014 film, and it was pretty obvious that they had become quick friends. Which is reiterated in their Riff-Off as you see them holding back their laughter.
You can catch some more Riff-Off goodness, The Filharmonic and Kendrick included in Pitch Perfect 2 currently in theaters.
Your Daily Blend of Entertainment News
Your Daily Blend of Entertainment News
Thank you for signing up to CinemaBlend. You will receive a verification email shortly.
There was a problem. Please refresh the page and try again.