Anna Kendrick: 10 Reasons She's Totally Awesome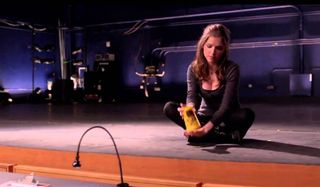 There's not much convincing to be done to come to the conclusion that Anna Kendrick is an awesome human being. Just follow her Twitter account. The 30-year-old actress is honest, down-to-earth, and extremely likable. Maybe it's her own self-deprecating nature, or her fearlessness in calling people out on their ridiculousness, but Kendrick comes off as one of the more relatable A-list celebrities running Hollywood today.
If you ask Anna Kendrick, though, she certainly wouldn't place herself at the top tiers she has undoubtedly reached. The young actress and singer has done it all from voice-acting to music videos to theater to film. She's already received a Tony Award nomination as well as an Academy Award nomination for Best Supporting Actress. Her talents are landing her jobs left and right with five movies out just this year, including the highly-anticipated sequel to Pitch Perfect. And her charming wit has even scored her a book deal. There's so many reasons to love Anna Kendrick, and so many more to come. But here are 10 more reasons we think she's totally awesome.
She Learned The Cup Song Because She Was Bored On Reddit
It's well-known that Anna Kendrick is an active member of social media culture. Her Twitter just got her a book deal. But her obsessions go beyond 140-characters. The actress actually loves Reddit. And one day (long before Pitch Perfect) when she was saw Anna Burden's viral performance of Lulu and the Lampshades "Cups" front page on Reddit, Kendrick decided she had to learn it. She told David Letterman on The Late Show:
Her First Onscreen Romance Was At Age 25
Despite playing multiple teenage roles in her early career, Anna Kendrick did not have her first onscreen romance until she was 25. There were big roles in movies such as Rocket Science, Twilight and Up in the Air, but Kendrick often played the high-achieving teenager, and did not get her first onscreen romance until 50/50 with Joseph Gordon-Levitt. She told A.V. Club:
She's A Huge Lord Of The Rings Fan
Anna Kendrick is quite vocal about her particular nerdoms on her Twitter account, including her weekly Game of Thrones watching, her geek out for the new Star Wars trailer, and even some Harry Potter references. But, from the sound of it, Kendrick's biggest loyalty lies with Lord of the Rings. In an interview with The Huffington Post, in chatting about the release of The Hobbit, she admitted:
She Took Time Off To Work At A Pastry Shop
Anna Kendrick loves her sweets. And she loves baking them too. Though she's admitted she's not the greatest cook, she does love baking and is super into pastries. So much so that the Pitch Perfect actress decided she wanted to become a pro. Years ago the young actress decided to use her time off wisely, and ended up going to work. She went into a high-end pastry show and basically just asked if she could work there for a couple weeks. They said yes, and the rest is history.
She Used To Have A Hot Dog Named After Her
Anna Kendrick may be young, but she's already scored one of the highest American honors ever, getting a hot dog named after her. A specialty hot dog restaurant in Chicago called Hot Doug's had a hot dog named "The Anna Kendrick" which was formerly known as "The Keira Knightly, the Jennifer Garner and the Britney Spears". The tagline for the hot dog was "Mighty Hot", but unfortunately it has now been changed to the name "The Malin Akerman". Kendrick tried the hot dog when it was still named after her, and loved it.
She Started Acting When She Was 10
Anna Kendrick has been quite active in the entertainment business for most of her life. Originally from Portland, Maine, Kendrick started going to auditions in New York City by the age of 10. Her brother, Michael who also dabbles in acting was 12 years old at the time, and the two began taking the bus trip down to the city on their own. In an Interview with Nylon magazine she admitted:
She Was In A Broadway Musical At Age 12 And Earned A Tony Nomination
Anna Kendrick may have only just started acting at the age 10, but by age 12 she scored a role in a Broadway musical and earned a Tony nomination. Her featured role as Dinah Lord in the Broadway musical High Society gained her some serious recognition at a young age. At the time, Kendrick's nomination made her the second youngest person to ever get nominated for a Tony. Despite her huge success though, Kendrick was always modest. Her high school drama teacher told Boston Common that was a typical high school student:
She's Afraid Of Clowns, Like Everyone Else
During Anna Kendrick's time as Bella Swan's sorta-BFF, Jessica, she attracted some serious super-fans. And for those dedicated Twi-hards, they demand answers. Particularly, what Kendrick is most afraid of. In an interview with The Huffington Post she admitted that it must be clowns. But of course, because this is Anna Kendrick, she followed it up with the perfect explanation.
She Was On One Of The Worst TV Shows Ever Made
Viva Laughlin a musical comedy-drama series was a new concept back in 2007. Now among shows like Glee it potentially could have stood its own. But when it was released it was a huge failure, being questioned as to whether or not it was the worst show ever made. It was cancelled after airing only two episodes, and as it turns out, Anna Kendrick was actually on an episode. When asked about it by The Huffington Post she responded:
David Ayer Asked Her To Be In An LCD Soundsystem Music Video
Anna Kendrick starred in LCD Soundsystem's music video "Pow Wow". David Ayer went to Kendrick to pitch the idea of the music video to her, and since it was on her bucket list to do a music video, she jumped at the opportunity. Kendrick's friend had a particularly interesting theory about Kendrick's performance in the music fide. Kendrick explained it to A.V. Club:
Your Daily Blend of Entertainment News