Watch Jurassic World Build Scenes Around Its Dinosaurs In New Making-Of Video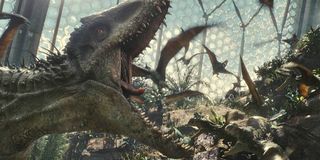 How did Colin Trevorrow, the man who made the third highest-grossing movie of all time and the man who will direct Star Wars: Episode 9, create the dinosaurs in Jurassic World? Well, he didn't really. He created the scenes around the dinosaurs, which were then inserted into the scenes through CG. Some of the creatures were made through practical effects, but the latest behind-the-scenes videos showcase some of the special effects magic that went into this work. Watch them below.
Jurassic World will hit DVD, Blu-ray and Digital Download on October 20, and to prep for the occasion, eight new featurettes have been released by Universal. Comic Book Movie got a hold of them (via Flicks and the City), one of which is titled "Bringing the Dinosaurs to Life." This is the one that reveals the behind-the-scenes magic that went into developing these fearsome beasts. As shown, the actors had little of which to act off. Bryce Dallas Howard, who played Claire in the film, screams as a green-clothed prop in the general shape of a raptor head busts through her truck window. In other moments, such as when the Indominus crushes through the roof of the abandoned theme park building and when the group is running away from the snapping raptors, they had none of that — only explosive effects.
The same goes for actors Nick Robinson and Ty Simpkins, who played Claire's nephews. As they recollected in another behind-the-scenes video, the shooting process was extremely physical. The pair would be sprinting as fast as they could out of the woods and into grasslands while imagining a frightening and gargantuan dinosaur chasing them.
VFX production company ILM partnered with Universal on the creation of the actual beasts, while more beasts were made through moldings and animatronics. We've already seen in a previous video how the dying brachiosaurus, whose head was cradled by Claire (Howard), was conceived through multiple stages. Colin Trevorrow said how he wanted to bring some of the magic from the original Jurassic Park into this one, and this was one of the ways in which he accomplished this.
Jurassic World helped Universal break a number of box office records, including the record for fastest studio to surpass $2 billion at the yearly North American box office. Be sure to reserve your own copy.
Your Daily Blend of Entertainment News
Thank you for signing up to CinemaBlend. You will receive a verification email shortly.
There was a problem. Please refresh the page and try again.