Watch Kenan And Kel Reunite, Bond Over Jurassic Park Tickets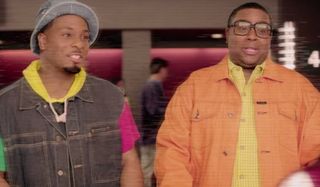 People of a certain age will know that before Kenan Thompson became the longest-serving African American cast member in Saturday Night Live history, he was simply one half of the Nickelodeon show Kenan & Kel. Seeing Kenan Thompson reunite with his Kenan & Kel co-star Kel Mitchell always gives fans a thrill, which is why this video of the pair bonding over buying Jurassic Park tickets and ordering one large popcorn with nacho cheese will make them feel all nice and gooey inside. Check it out below.
It's good to know that Steven Spielberg's 1993 cinematic behemoth hasn't just enthralled fans of all ages for around 23 years straight, but that it also brought together arguably the most popular children's double act of the 1990s, too! Forget the fact that it's probably the archetypal blockbuster, this is now Jurassic Park's legacy.
Between 1996 and 2000, Kenan & Kel ran for four seasons and one TV movie, while Kenan Thompson and Kel Mitchell also starred in the 1997 feature film Good Burger, too. But while seeing Kenan Thompson and Kel Mitchell back on screen together is enough to warm even the coldest of hearts, there were some startling omissions from their reunion that it's hard not to be peeved at. I mean, I can't believe that Kel Mitchell doesn't either mention or gulp down a full bottle of orange soda. While I'm also annoyed that we didn't get to hear Kenan Thompson shout out, "Why!!!"
But just seeing them completely in sync again does suffice. OK, they've only reunited so that they can help to promote Fandango's latest advert, which sees Kenan Thompson reprise his character of Miles Mouvay, but I'm willing to overlook them selling out for the pleasant wave of nostalgia.
But what's Kel Mitchell been up to since the end of Kenan & Kel? Well, according to this advert, he's been doing pretty well for himself. That's because he's now a "tech billionaire with his own private island."
Kenan Thompson hasn't done too bad. Because not only is he a firmly established member of the Saturday Night Live roster, but as he points out in the above advert, he has his very own popcorn machine, too. However, if we're being honest, he'll forever be Roger Rockmore's son to me. How about to you?
Your Daily Blend of Entertainment News
Thank you for signing up to CinemaBlend. You will receive a verification email shortly.
There was a problem. Please refresh the page and try again.