SNL's Kenan Thompson Developing A Comedy For NBC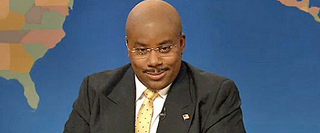 Saturday Night Live's Kenan Thompson is looking to make a move into his very own show. The comedian is developing a single-camera comedy that won't take him far from his SNL home. The comedy is in development at NBC, and Thompson is working with Lorne Michaels on the project.
THR says NBC has given a script commitment to the currently untitled multi-generational comedy, which will star Thompson as a guy who moves away from the life he knows and loves in New York and moves in with his in-laws in the suburbs. In addition to starring, Thompson will write and executive produce the project, alongside Lorne Michaels. This is the second comedy Michaels has in development with an SNL player right now; the other is a comedy with Seth Meyers and his brother Josh Meyers. Kenan Thompson has been a player on SNL since 2003, but this could be his return to scripted television (where he got his start). He spent some time on The Steve Harvey Show and starred in the series Kenan & Kel for four years, so he's no stranger to starring in a comedy.
As of right now, there's no word that Kenan Thompson is planning to leave SNL, but if this new comedy goes ahead he could be the next one out the door. Ten years is a long time to stay with Saturday Night Live for any cast member, so it won't come as much of a surprise if he decides to move on. Of course, that depends on how the development of his new gig goes.
Your Daily Blend of Entertainment News
Thank you for signing up to CinemaBlend. You will receive a verification email shortly.
There was a problem. Please refresh the page and try again.