Watch Marvel Get An Incredible Musical Tribute From Michigan State's Band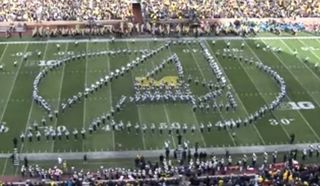 If you watched the University of Michigan versus Michigan State University college football game this weekend, you saw what is sure to go down as one of the craziest final plays of the entire season. One thing you probably didn't see, as it wasn't broadcast, was the halftime performance of the MSU marching band, which paid tribute to the music of the Marvel Cinematic Universe. That's too bad, because it's awesome, but now, thanks internet, you can check it out below.
The Spartan Marching Band posted this video of the halftime show, so even if you couldn't care less about football, or just prefer to stay away from the Big 10, you can still take a look for yourself. During the more than six-minute performance, the band plays the hits from the likes of Iron Man, The Avengers, and Guardians of the Galaxy, and in a welcome home moment, they even play the Spider-Man theme.
They hit the score from the film, which makes sense musically, including from GotG, where they sort of reenact Star-Lord, Gamora, Drax, Groot, and Rocket escaping from notorious space prison the Kyln. But they also give the soundtracks some love, too, playing a sampling of tracks including Blue Swede's "Hooked on a Feeling" and "Ain't No Mountain High Enough" by the Supremes, both from the Guardians soundtrack, and they even throw in some Black Sabbath just for good measure.
This performance is a pretty good time on its own, and though it didn't air live on a national platform, it hasn't entirely escaped the public eye. In fact, it caught the attention of one celebrity in particular, Guardians of the Galaxy writer and director James Gunn, who took to social media to give the MSU marching band a well-deserved shout out.
Though the MCU may be quiet on the movie front for the next few months — we still have Agents of S.H.I.E.L.D. on ABC and Jessica Jones on the way from Netflix — thing will pick up next May, as Captain America: Civil War brings back most of your favorite superheroes, as well as introduces a slew of new faces. Then we get the Sorcerer Supreme later in the year as Doctor Strange leads his first big screen adventure in the MCU next November.
With Deadpool, Gambit, Batman v. Superman, and Suicide Squad also set for release next year, 2016 is shaping up to be a banner year for superhero movies.
Your Daily Blend of Entertainment News
Thank you for signing up to CinemaBlend. You will receive a verification email shortly.
There was a problem. Please refresh the page and try again.