Someone Made Iron Man's Hulkbuster Armor, See It In Action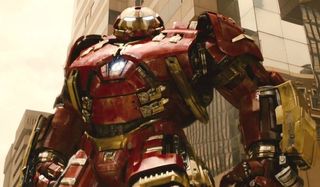 Comic-Cons always bring out top-notch displays of cosplay. While some choose to purchase fully formed costumes of their favorite superheroes and comic book characters, others rely on their DIY abilities to bring these titans to life. We would say everyone's a winner when it comes to cosplay, but the clear standout of New York Comic-Con this past weekend was the near-life-sized version of Tony Stark's Hulkbuster armor from Avengers: Age of Ultron. Check him out in the video below.
Tech Insider snagged footage of this 9-feet-6-inches high, 95-pound beast marching through NYC's Javitz Center as bystanders gawked at the creation. Thomas DePetrillo is the man underneath this suit of armor. According to Tech Insider, he's been working on this suit for 1,600 hours, though DePetrillo says in a making-of video on his Extreme Costumes YouTube page that it was a two-year development. He used stilts to give him increased height, though it contributes to his 20-minute-long suit-up time.
DePetrillo went into further detail in his behind-the-scenes video. Though he's been making creations like Hulkbuster for the past 19 years, this is "the largest and most domineering thing" he's ever done in his life. Watch the footage below.
The amount of work that went into this cosplay reminds me of the impressive Apocalypse creation that stole at the spotlight at San Diego Comic-Con last year. A team of artists from Cinema Makeup School worked tirelessly to bring to life En Sabah Nur from the X-Men comics. You see and learn more about the project over at ScreenCrush.
Apocalypse was all the rage around that time, being that X-Men: Apocalypse was announced last year. This year was all about Hulkbuster. In Age of Ultron, Bruce Banner (Mark Ruffalo) helped Stark (Robert Downey Jr.) create "Veronica," aka Hulkbuster, a suit designed to subdue Banner's Hulk side should he ever lose control. Spoiler: he did lose control, thanks to Scarlet Witch, and what ensued was an epic battle that devastated a city. It's unclear where Banner will pop up next in the MCU, given where we found him at the end of Age of Ultron, but at least Stark won't be needing to subdue Hulk in next year's Captain America: Civil War.
Next year will feature a lot of cool superhero characters for fans to cosplay, including Benedict Cumberbatch's Doctor Strange, Chadwick Boseman's Black Panther, Gal Gadot's Wonder Woman, and Oscar Isaac's Apocalypse. But, if you ask me, I can see someone replicating Ben Hardy's Archangel in X-Men: Apocalypse for next year's big Comic-Con sensation.
Your Daily Blend of Entertainment News
Thank you for signing up to CinemaBlend. You will receive a verification email shortly.
There was a problem. Please refresh the page and try again.