Wentworth Miller Somehow Adapting A Book That's Narrated By A Dog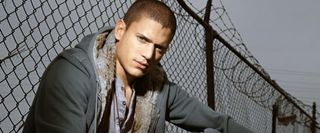 Almost exactly four years ago both my mom and I spent a week of vacation reading the book The Story of Edgar Sawtelle, David Wroblewski's gripping, Hamlet-inspired novel about a boy growing up on a dog-breeding farm in Wisconsin, who suspects his uncle of having killed his father. It was a great read, but when I caught the news a few months later that Oprah and Tom Hanks were collaborating to adapt it into a movie, I was stunned. The movie is narrated entirely by the main character, who is a mute-- except for a few chapters where it's narrated by his loyal dog. How on earth were they going to make that an actual film?
There hasn't been any news on the Sawtelle option basically since the Oprah and Hanks news broke in early 2009, so I thought it was safe to assume they had given up. Alas, not so fast. The Hollywood Reporter writes that Wentworth Miller, the actor best known from Prison Break who is starting his screenwriting career, is now set to adapt Edgar Sawtelle, which is still set up at Universal with Hanks's Playtone and Oprah's Harpo Films still attached to produce. Those are the kinds of big names that keep a movie alive through years of development hell, I suppose, though since Universal had no comment on the deal, it's unclear just how much Miller's involvement might get the movie closer to actually existing.
But in the meantime, Miller's first script is close to making its way to a theater near you. Stoker, a thriller directed by Korean master Park Chan-Wook, has a cast that includes Mia Wasikowska, Nicole Kidman and Matthew Goode and filmed last year. So we'll get an idea then of what Miller's screenwriting skills really are-- though I'm still not sure it will convince me that Edgar Sawtelle is a story that demands to be on the screen.
Staff Writer at CinemaBlend
Your Daily Blend of Entertainment News
Thank you for signing up to CinemaBlend. You will receive a verification email shortly.
There was a problem. Please refresh the page and try again.