Were Goon Posters Banned in Canada?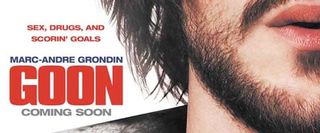 The in-your-face hockey comedy Goon has made no attempt to mask its aggressive brand of R-rated and violent humor. The film's first character posters showed its leads, Liev Schreiber and Seann William Scott, beaten and bloody with broad, chipped tooth grins. Its extended clip required some major audio editing to make it SFW, and its trailer made no bones about its thirst for throwdowns and crude humor. So it's not surprising that some aspect of its marketing has been deemed off-color. Specifically, the people of Toronto have complained about a character poster featuring Canadian actor Jay Baruchel because of the gesture seen below, courtesy of CTV:
Here Baruchel, who co-wrote and co-stars in Goon, is in character as a loud and proud hockey fan and heckler. While other Goon promotional posters offer violence, and allude to "sex, drug and scorin' goals," this one drew ire. The posters had been up for two weeks before 38 of them were removed on Wednesday, the same day as the film's Toronto red carpet premiere. A citywide ban of the image now seems to be in effect.
News of the ban broke just as Goon's stars took to the red carpet. When asked about the controversy, Baruchel initially shrugged it off, telling THR: "Another classic example of the cultural divide between Quebec and Ontario, I guess." Though he was less kind when he spoke to The Toronto Star, quipping, "It must be exhausting to be that uptight," before repeating the gesture for eager photographers.
His co-star Schreiber was more conciliatory, admitting to the newspaper, "Having two small children myself, I can appreciate somebody being offended or not wanting that out there on the streets."
City officials did not notify Alliance Films of the plan to take down the posters, and it seems a suspiciously strange move to remove them on the day so much of the cast and crew would be in town. This just drew more notice to their absence, and so attracted media outlets to focus on the posters and question city officials who have not yet responded. Why wouldn't the city officials wait a day?
As explained to the Toronto Star, on Tuesday the city contacted Astal Media, the outdoor advertiser who'd put up the posters, about "at least one complaint," which apparently spurred Astral to take down the images "without further discussion with the city." So, Toronto's city officials—which are getting the brunt of the criticism for this move—appear to have nothing to do with the posters being taken down, and rumors of a ban are greatly exaggerated. Could this mean this isn't censorship but rather a keen ploy on the part of the ad agency to draw more notice to the movie? Sounds like a real possibility.
Goon opens in Canada tomorrow. A U.S. release will follow on March 30th.
Your Daily Blend of Entertainment News
Staff writer at CinemaBlend.