What Ever Happened To Baby Jane Remake In The Works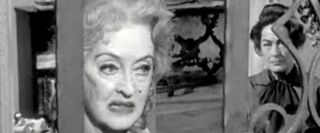 Remakes are a mainstay of Hollywood production slates, and thereby a constant topic for those of us who cover film. It's easy to hate on remakes, as many can be easily discounted as unoriginal and lazy efforts. And yet, I do generally try to give proposed remakes the benefit of the doubt. Maybe the new Total Recall will find a new exhilarating angle? Chloe Mortez as Carrie does seem inspired casting...And yet, I can't rally anything close to even cautious optimism for the latest proposed remake out of Hollywood.
EW reports that Walter Hill, best-known for macho flicks like The Warriors and Last Man Standing, has partnered up with the Aldrich Company to remake Robert Aldrich's harrowing thriller What Ever Happened to Baby Jane? Based on the a novel by Henry Farrell, the original starred aging Hollywood icons Bette Davis and Joan Crawford as two sisters who were ravaged by the movie industry and now torment each other in the confines of their isolated Hollywood mansion. Between the boldness of these legendary ladies' performances and the added weight their personas carried, this twisted sister tale delivered a powerful attack on Hollywood's fickle fame game, making for a thriller that's mind-bending on several fronts.
Hill will be adapting the screenplay, and plans to direct, admitting,
I don't doubt his passion for this remake, and Hill is a capable director, but in an age where Lindsay Lohan is being cast as Elizabeth Taylor, I cringe to think who may take on Davis and Crawford's roles. (Yes, Vanessa and Lynn Redgrave starred in a made-for-TV remake, but despite their incredible reputations, no one talks about it. Ever.) Plus, Hill's mention of making What Ever Happened to Baby Jane? "modern" rankles me, as it implies he'll favor a the contemporary acting style rather than utilizing the out of fashion/more theatrical performance style favored in 1962. While it may seem campy out of context, the performances in What Ever Happened to Baby Jane? make complete sense for the delusion-fueled world the sisters have created for themselves.
Basically, while I do try to be optimistic about remakes as a rule, I can't muster any hope for a remake that won't maintain the original's biggest standouts, in this case two unmatched leading ladies and a wonderfully big and bold performance style that makes What Ever Happened to Baby Jane? as riveting and thoroughly terrifying today as it ever was.
Your Daily Blend of Entertainment News
Staff writer at CinemaBlend.
Your Daily Blend of Entertainment News
Thank you for signing up to CinemaBlend. You will receive a verification email shortly.
There was a problem. Please refresh the page and try again.