Where Is Pineapple Express 2? Seth Rogen Gives An Update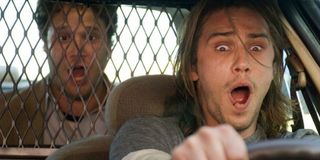 It's been seven years since James Franco and Seth Rogen showed the world that they really are BFFs with Pineapple Express, the stoner action comedy that was a delightful romp. But what are the chances that there will actually be a Pineapple Express 2? Well, Seth Rogen is still hopeful that it will happen, but he isn't holding his breath because he also revealed why the sequel was previously stopped from being greenlit.
Rogen made this revelation during a Twitter question and answer session to promote his upcoming holiday comedy, The Night Before. User Shane.A decided to take this opportunity to quiz Seth Rogen about the chances of Pineapple Express 2, to which the comedian responded:
While it's great to hear that Rogen is still adamant he wants Pineapple Express 2 to happen, it's rather clear from his tone that he believes there are quite a few hurdles to leap before it becomes a reality, mainly the fact that studio executives aren't chomping at the bit to finance the follow-up.
From the sound of things, these executives are still rather sore that The Interview, which Seth Rogen co-directed and starred in, alongside Franco, caused an international incident because it poked fun at North Korea dictator Kim Jong Un. In response to the film, the Guardians of Peace, a group of cyber terrorists with links to North Korea, hacked Sony Pictures Entertainment and then spent the next few months systematically embarrassing most of Hollywood with what they found.
For those of you that haven't seen it, Pineapple Express saw Seth Rogen star as Dale Denton, a 25-year-old pot smoker who is forced to go on the run with his drug dealer, Saul Silver (James Franco), after the pair witness a police officer murder a man. Cue paranoid stoner hijinks with a heart. The film is also buoyed by a sublime supporting performance from Danny McBride, and it came slap bang in the middle of a purple patch for Rogen, as it followed both Knocked Up and Superbad. Is it just as good as those? Probably not. But it's still utterly engrossing and hilarious.
Meanwhile you can check out Seth Rogen answering the above Twitter question, while at the same time he holds the camera a little bit too close to his face, below.
The Night Before hits cinemas on November 20, and according to early reviews, it's a sterling R-rated addition to the festive movie catalogue. So get it seen.
Your Daily Blend of Entertainment News
Thank you for signing up to CinemaBlend. You will receive a verification email shortly.
There was a problem. Please refresh the page and try again.