Why Anthony Mackie Wants More Ethnic Superhero Characters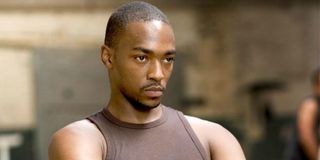 Anthony Mackie is one of the few ethnic actors to portray a superhero. As The Falcon, Mackie has now appeared in Captain America: Winter Soldier, Avengers: Age Of Ultron, and Ant-Man. And while he will soon be joined by Chadwick Boseman's The Black Panther, Mackie is adamant that isn't enough and more ethnic superheroes need to be blazoned up on the big screen.
Mackie discussed the need for racial diversity at the Salt Lake Comic Con on Saturday evening, explaining that he believes the addition of more ethnic actors in these films will help children understand race more. According to The Salt Lake Tribune, Mackie declared:
During this discussion, Anthony Mackie talked about how when he was growing up watching Superman, he didn't believe that he couldn't be that character simply because of the color of his skin.
The tide is beginning to turn in the genre though, albeit relatively slowly. As I mentioned earlier, within the hallowed halls of Marvel's Cinematic Universe, Mackie's Falcon, Boseman's Black Panther, Zoe Saldana's Gamora, and Samuel L Jackson's Nick Fury have each appeared in major parts, while both Don Cheadle and Terrence Howard have portrayed War Machine.
Meanwhile, over at DC, Will Smith is set to play Deadshot in Suicide Squad, while Laurence Fishburne is set to reprise his role as Perry White in Batman V Superman: Dawn Of Justice. Jason Momoa and Dwayne "The Rock" Johnson have each been cast in Aquaman and Shazam, respectively. However this is still not nearly enough. Unfortunately those in control of these superhero adaptations are in a bit of a sticky situation themselves when it comes to trying to incorporate and include more racially diverse characters. Just look at what happened when Michael B. Jordan was cast as Johnny Storm in The Fantastic Four. This announcement was met with all kinds of disdain and boo-hooing, as die-hard fans of the comics wailed with dissent at the decision to drastically change the appearance of the character in comparison to the source material. It didn't matter that Jordan is one of the most talented young actors in Hollywood, because to some fans he didn't look the part.
Unfortunately, some individuals could point to the fact that The Fantastic Four turned out to be a gigantic flop as proof that Jordan shouldn't have been cast. In reality, Josh Trank's attempted reboot of the beloved quartet failed for a myriad of reasons. None more so than the director's ill-advised Tweet lambasting his own film on the eve of its release.
Hopefully, the impending releases of Captain America: Civil War, Suicide Squad, Aquaman, and Shazam over the next few years will convince Hollywood to cast actors of different ethnicities. Captain America: Civil War hits theaters on May 6, 2016.
Your Daily Blend of Entertainment News
Thank you for signing up to CinemaBlend. You will receive a verification email shortly.
There was a problem. Please refresh the page and try again.