Why The Spider-Man Movies May Go In A Completely Different Direction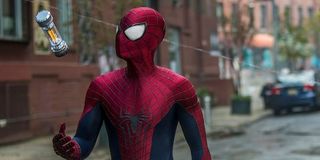 After months in the spotlight of the Sony email hacking scandal, Sony Pictures Entertainment co-chairman Amy Pascal announced today that she will step down from her position at the studio in May to launch her own production company. With her gone, we can expect that many of Sony's upcoming blockbusters will be reexamined - especially the Amazing Spider-Man movies, which have hit a road bump last year with the tepid response The Amazing Spider-Man 2 received and the controversy surrounding their planned spinoffs. In fact, it looks like it's possible that the Spider-Man movies may be going on a completely new path thanks to this corporate shake-up.
Now that Pascal has vacated her position, Variety is reporting that there is a possibility that Sony may forgo plans to expand Spider-Man's cinematic universe. Although the franchise remains a "cash cow" for the studio, they are evidently reexamining whether they want to move forward with films like Sinister Six and The Amazing Spider-Man 3, something that Amy Pascal was keen on pushing forward. Instead, the trade reports suggests that the "new regime" might consider negotiating with Marvel Studios again over Spidey's film rights. Hearing this, it's hard not to think of the hacked emails from last December that revealed discussions between Sony and Marvel regarding a scenario where Marvel would produce a trilogy of Spider-Man films (sadly, nothing ever came of those talks).
As things currently stand, Sinister Six is being planned for release in late 2016, meaning production would have to begin during the latter half of 2015 to stay on schedule. If Sony is going to keep that date, they're going to need to make a decision on how to proceed with Spidey's future in the coming months. There was a "Spider-summit" reportedly scheduled for last month where the executives would have discussed the future of the franchise, but no information from that meeting has been disclosed to the public.
As stated many times before, Sony has more to lose from a deal with Marvel than the House of Ideas does. Marvel has been having enormous success with their library of characters, whether it's well-known superheroes like Iron Man or D-list adventurers like the Guardians of the Galaxy. The only superhero Sony has is Spider-Man, and right now he's not doing so well on the big screen. While it may not be optimal for them, striking a deal with Marvel may be the only way for the studio to guarantee continued success for the Web Slinger while still earning a portion of profits. If that happens, it's unlikely that we'd see the Wall-Crawler appear in 2016's Captain America: Civil War (an adaptation of the original 2006 Civil War story that he played a huge part in), but if he joins the MCU, it's not impossible that he could appear in one of the Avengers: Infinity War movies.
Despite the franchise being currently in limbo, Sinister Six is set to be released on Nov. 11, 2016, with The Amazing Spider-Man 3 scheduled for sometime in 2018.
Your Daily Blend of Entertainment News
Connoisseur of Marvel, DC, Star Wars, John Wick, MonsterVerse and Doctor Who lore. He's aware he looks like Harry Potter and Clark Kent.