Why Spider-Man Wasn't Part Of The Massive Marvel Movie Announcements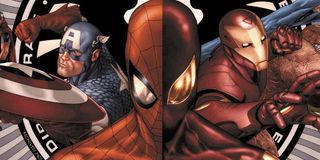 In the hours leading up to the incredible Marvel event on Tuesday, Twitter was abuzz with possibilities. Note: the same thing happens annually at Comic-Con as fans wait for the Marvel panel in Hall H. Fans trying to guess what Marvel President Kevin Feige had up his sleeve speculated about Doctor Strange casting, Avengers: Age of Ultron footage, and the confirmations of standalone solo films (many of which were announced in the eventual panel). One guess that many had, though, didn't come to fruition… and I have a few guesses as to why.
Spider-Man was not announced as part of the ever-expanding Phase Three in the Marvel Cinemaric Universe, despite rumors that Sony and Marvel were striking a deal behind the scenes to allow Web head to play in the MCU sandbox… possibly for the Civil War storyline. Those who read the Civil War plot in the Marvel comics know that Peter Parker and his secret identity of Spider-Man play an integral part in the Superhero Registration Act that drives a wedge between Tony Stark (Robert Downey Jr.) and Steve Rodgers (Chris Evans). With Marvel confirming that Captain America 3 will be subtitled Captain America: Civil War, now was the ideal time to announce that Spider-Man would be able to cross streams, represent two studios, and bring a geek community's dream to life, right?
Well, not exactly. As is usually the case, the passionate speculation of the Marvel fanbase created lofty expectations, so when Andrew Garfield didn't step out on stage at the El Capitan theater in downtown Hollywood, a bit of cold water was sprinkled on the Spidey rumors. Why?
I have two theories, the first being that negotiations between two studios wading into uncharted waters take an awful long time. Sony and Marvel, if they were to make this deal happen, are going to have to try and figure out how to financially benefit from the existence of the Spider-Man character. Yes, plugging him into the Civil War storyline makes sense from a story standpoint. But from a business standpoint – which is what the studio is concerned with – allowing Sony's Spider-Man to appear in Marvel's Captain America film creates a wealth of headaches. How would the move affect Garfield's current contract? What type of precedent would this establish for other studios (like Fox) sharing characters (like The Fantastic Four) because they fit into the narrative of a storyline Marvel is trying to tell?
Also, it's possible that Marvel found a replacement for Spider-Man in the Civil War storyline.
During the Marvel presentation, Evans and Downey joined Kevin Feige on stage to announce that Captain America 3 will carry out the Civil War. But during that reveal, Chadwick Boseman joined them to confirm that Black Panther would be an integral part of that story – the way Black Widow was crucial to the events of The Winter Soldier. Assuming Marvel can't get Spider-Man to swing over to their universe, is it safe to assume that Black Panther will fill the void that exists between Iron Man and Cap? Could Wakanda be a safe haven for heroes who don't want to register in Stark's pro-government initiative?
It's still a strong possibility that Marvel will figure some way to get Spider-Man into its MCU. What Marvel wants, Marvel tends to get. But seeing the aftermath of the El Capitan party, it also seems like Marvel has a backup plan, and it has Black Panther's name written all over it.
Movie junkie. Infatuated with comic-book films. ReelBlend cohost. Resident dad. Extroverted introvert. Wants to see the Snyder Cut. Managing Director at CinemaBlend.
Your Daily Blend of Entertainment News
Thank you for signing up to CinemaBlend. You will receive a verification email shortly.
There was a problem. Please refresh the page and try again.