Why Vin Diesel Feels He Has To Star In Fast & Furious 8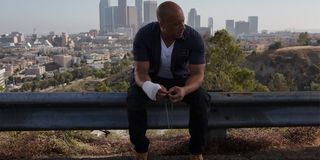 While Furious 7 continues to carry itself like a tricked-out money printing machine loaded with a super-charged V8 engine, the emotionally bittersweet component regarding the tragic passing of Paul Walker continues to define the film's broader narrative. However, according to co-star, Vin Diesel, words from the late franchise star may be all the motivation necessary to carry on with an eighth film. (Although, the current film making a bajillion dollars also kind of helps.)
In an interview with MTV News backstage at this weekend's MTV Movie Awards, Vin Diesel would cap-off an emotional evening in which he gave tribute to his "brother Pablo," obviously referring to Paul Walker with some possible news on the series. It seems that Walker may have posthumously given the greenlight for an eight film in the Fast & Furious franchise by way of a personal guarantee. As Diesel recounts,
Diesel seems to emotionally convey the idea that a potential eighth film in the Fast & Furious franchise would be, from a poetic standpoint, the definitive final gift from Paul Walker. However, Furious 7 is just coming off a second dominating weekend at the box-office, adding another $60 million to the domestic pot. With the film's global total sitting at $800 million in just two weeks of business, it's all but guaranteed to collide with the $1 billion marker, leaving it a proverbial pancake in the road. So, there is the rather obvious aspect that the potential eight film already has the necessary incentives for another obscenely monstrous box-office.
However, that is not to say that Diesel's impassioned connection to the franchise is motivated monetarily. It has been made abundantly clear over the past months building up to the release of Furious 7 that the cast of these films weren't just a "family" on the screen, but were close enough to be family in real life. While there is a segment of the moviegoing audience that dismisses the series as mindless, over-the-top, disposable cinematic fare, they have clearly have tapped into an extremely lucrative silent majority; likely due to the clear chemistry of this film family. While Paul Walker's tragic death in November of 2013 took away an integral segment of that group, Furious 7 seemed to mix a measure of closure with the possibility of continuation; especially with rumblings that Kurt Russell's character, "Mr. Nobody" may be an integral figure in the future installments.
Besides, with Furious 7 seeing the brief return of The Fast & The Furious: Tokyo Drift protagonist, Sean Boswell played by Lucas Black, rumors that the actor signed on for parts 7, 8 and 9 in the series may very well have been proven true. Putting Sean back in focus in the series alongside Vin Diesel's Dom could end up being a smooth transition that also manages to be respectful to the memory of Paul Walker.
Your Daily Blend of Entertainment News
Your Daily Blend of Entertainment News
Thank you for signing up to CinemaBlend. You will receive a verification email shortly.
There was a problem. Please refresh the page and try again.