Why X-Men: Apocalypse May Be The Most Emotional Movie In The Series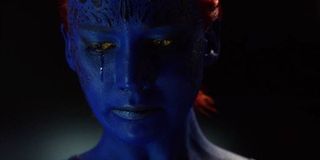 By the end of X-Men: Apocalypse there's a good chance that several fan favorites will be gone. Bryan Singer has already admitted that this is "kind of" a conclusion to the six X-Men films, and because of that we can expect it to be an emotional ride. In fact, the director said that during production even he couldn't help but shed a tear.
Bryan Singer made this revelation at the San Pedro International Film Festival, in a talk was filmed by The Movie Report, where he'd been invited to talk about the 20th anniversary of The Usual Suspects. Singer not only admitted that Apocalypse "is very emotional," but he revealed that Michael Fassbender made him openly weep while the director tried to remain composed during filming. Singer recalled:
Clearly, filming on X-Men: Apocalypse has been an extremely emotional experience. Which is understandable, as Singer explained that "it's sort of a wrap-up of six movies," which will even possess "an homage at the end" to the previous instalments. It sounds corny, but I trust Singer to do a sterling job with it.
But, don't just assume that Bryan Singer was the only one crying because of Michael Fassbender's scintillating acting prowess. That's because Singer then decided to throw several other people under the bus with himself by revealing the identity of two more individuals overcome by emotion during the shooting of the scene. He added:
But was there actually any further information that Bryan Singer could give us regarding this clearly powerful scene? Not really. He did admit that it wasn't really "a typical comic book movie scene at all." In fact, because of just how unique it is, Singer even remarked that there's still a chance it might not make the final cut.
Bryan Singer didn't just wax lyrical about the performance of Michael Fassbender in X-Men: Apocalypse, though. He also made sure to reserve special praise for James McAvoy and Oscar Isaac, who play Charles Xavier and Apocalypse in the blockbuster, insisting that his trio of leading men are "among the three greatest living actors in cinema, in their age category by far."
Not that he expects them to receive any special praise for their work on X-Men: Apocalypse, as he is well aware that the genre doesn't get that sort of recognition. Still, despite this oversight, Singer teased that in Apocalypse, with the characters, their stories, and the relaitonships, it's going to be hard not to well up.
With this in mind, when X-Men: Apocalypse is finally released on May 27, 2016, clearly you're going to need to bring along several dozen tissues with you.
Your Daily Blend of Entertainment News
Thank you for signing up to CinemaBlend. You will receive a verification email shortly.
There was a problem. Please refresh the page and try again.