Wolfgang Petersen Finally Coming Back To Movies With Old Man's War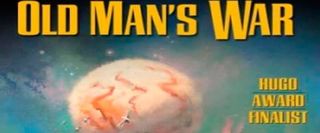 It's hard to remember that it wasn't so long ago when Wolfgang Peterson was a huge name in blockbuster filmmaking. If you look back past his most recent film, the flop Poseidon, you've got Troy, Outbreak, Air Force One and The Perfect Storm-- all of them hits, and all of them very different from each other. After taking a little time off to recover from Poseidon, Petersen is apparently ready to get back behind the camera, and this time he's going to outer space.
According to Deadline Paramount has acquired the rights to Old Man's War, John Scalzi's sci-fi novel that starts off when a 75-year-old man swaps out his old body for that of a younger, genetically enhanced once. He's sent on an outer space military operation, whewre he'll get the chance to live on a distant human colony if he survives battle. When he's injured in the fight he's rescued by an officer who he's convinced is a younger version of his dead wife, and like so many military heroes before him, he's forced to choose between duty and love.
David Self, whose previous credits include Road to Perdition and at least one version of the doomed The Wolfman script, will write the screenplay, with Scott Stuber producing. Scalzi's book is just one of four in a series, so if this one does well, don't be surprised if we wind up with another franchise on our hands.
Staff Writer at CinemaBlend
Your Daily Blend of Entertainment News
Thank you for signing up to CinemaBlend. You will receive a verification email shortly.
There was a problem. Please refresh the page and try again.