Why Wolverine Isn't A Big Part Of X-Men: Apocalypse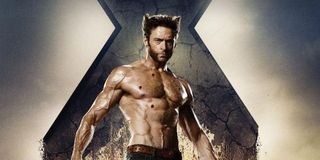 Ever since the X-Men movie series began in 2000, Wolverine has been one of the principal players in the franchise, essentially leading every movie pre-2016 except for X-Men: First Class (though he did cameo in that). However, this year has started to see his profile decrease a little bit, as he/Hugh Jackman was only mentioned or seen in magazine form in Deadpool. X-Men: Apocalypse is following this May, and amidst all that movie's mutants, both young and old, Wolverine hasn't been seen anywhere. According to director Bryan Singer, this is because the clawed mutant doesn't have any major role to play in the story.
When asked if Wolverine will appear in X-Men: Apocalypse, Singer told Empire (via Heroic Hollywood) that the character just didn't fit into the story they were telling for the sixth main X-Men installment. He said:
Keep in mind that just because Singer said that Wolverine isn't a central character doesn't mean he won't appear at all. There were several rumors last year that Wolverine would cameo, and after Jackman was reportedly seen on the set, a now-deleted picture emerged of a custom-made bag for Jackman to use during the production. Any kind of appearance hasn't confirmed yet, but if Wolverine does show up, his appearance would likely be something similar to his screen time in X-Men: First Class, or at most, something a little bigger. Although the "present-day" Wolverine's mind made it back to the revised timeline in X-Men: Days of Future Past, his past self was last seen being fished out of the Potomac River after being tossed in it by Magneto. Can't we get a little hint of what '80s Logan is up to?
Even if Wolverine doesn't show up in X-Men: Apocalypse, moviegoers will see the return of one of his enemies. Josh Helman is reprising William Stryker, the man who recruited Wolverine into Weapon X in the original timeline. Herman's Stryker was last seen in X-Men: Days of Future Past serving Bolivar Trask, and 10 years later, he's enacting his own plan to deal with the "mutant problem." To that end, there will be a scene in the movie involving him and the younger mutants at Weapon X. Even if Wolverine does appear, we shouldn't get our hopes up of seeing the adamantium procedure being recreated. But if he crosses paths with Stryker, maybe we'll see foreshadowing towards the adversarial relationship they had in X2: X-Men United and X-Men Origins: Wolverine.
X-Men: Apocalypse hits theaters on May 27, and on the off-chance Wolverine doesn't end up appearing at all, fans can see Hugh Jackman play him for the last time in Wolverine 3 on March 3, 2017.
Your Daily Blend of Entertainment News
Connoisseur of Marvel, DC, Star Wars, John Wick, MonsterVerse and Doctor Who lore. He's aware he looks like Harry Potter and Clark Kent.