Wong Kar-Wai Sells $95 T-Shirt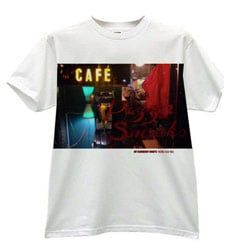 Nothing says social status like a wildly over-priced t-shirt. That is why so many $25 to $40 Abercrombie & Fitch t-shirts grace high school corridors and collegiate halls. To one-up the jocks and cool kids, indie film buffs can plunk down $95 for a t-shirt supporting a movie that no one is likely to see.
Hong Kong auteur Wong Kar-Wai has decided to support his first American film, the Norah Jones-headlining road movie My Blueberry Nights, by selling the over-priced t-shirts at Opening Ceremony in preparation for the film's North American release, according to Men.Style.com. If $95 is a bit out of your price range, you can also pick up a post card for $25 or poster for $50.
To offset the cost of a t-shirt, you have the chance to hear Wong Kar-Wai speak at the Apple Store - SoHo from 7 to 8 p.m. tomorrow, April 1, for free, says indieWIRE. Get there early though -- seating is first-come, first-serve and limited. If you are all jazzed up about his SoHo appearance, head over to Opening Ceremony the next day, Wednesday, April 2, to meet him in person from 5 to 6:30 p.m. and support him, not by seeing the movie, but by buying a t-shirt, obviously.
Your Daily Blend of Entertainment News