New X-Men: Days Of Future Past Still Puts The Spotlight On Quicksilver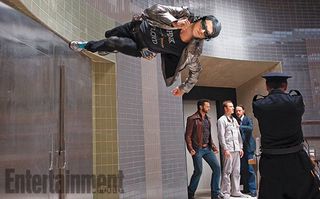 20th Century Fox made a very odd choice earlier this week when they used a Carl's Jr. commercial to give us our first legitimate in-motion look at Evan Peters as Quicksilver from X-Men: Days of Future Past. It's possible that some folks in the marketing department realized that may have been a bit of a mistake, so now, thanks to Entertainment Weekly, we not only have the brand new still above but also a few quotes from producer/screenwriter Simon Kinberg about how the comic book character will be portrayed and utilized in the next installment of the X-Men franchise.
In this new image, Quicksilver steals a lot of focus using his mutant-powered super speed to run along the wall, but you'll notice that he is teamed up with Wolverine (Hugh Jackman), Magneto (Michael Fassbender) and a mysteriously walking Professor X (James McAvoy. In this scene the characters have teamed up to try and break Magneto out of jail - hence the Master of Magnetism's gray pajamas. Apparently this will be a key sequence for Quicksilver in X-Men: Days of Future Past. Explained Kinberg in the interview with the magazine,
Let's pause a quick moment: what does Kinberg mean "knew him from the future?" Is Quicksilver going to be featured as an adult in the future timeline of the story, or will there be a flashback sequence to some time in the 80s or 90s when Wolverine and Quicksilver first crossed paths? Also, does the fact that Quicksilver is being introduced into the story through Wolverine mean that he isn't going to be portrayed as Magneto's son? Fortunately, Kinberg provided an answer to that last question:
Moving on to talk more about Quicksilver's personality, the writer/producer says that the live-action adaptation of the character will be somewhat mentally affected by his own super speed and really unable to focus on anything for more than a moment. "The way we conceived him is a sort of an ADD kid," Kinberg said. "Everything he does is just popping and zipping around. He doesn't take anything seriously. He's not in a situation for more than a few seconds. So it infused the movie with an energy that was really useful for us."
Finally, the writer/producer also addressed the elephant in the room: the fact that Quicksilver is set to appear not only in X-Men: Days of Future Past but also in Joss Whedon's upcoming The Avengers: Age of Ultron (where he will be played by Kick-Ass star Aaron Taylor-Johnson). The filmmaker insisted that there is no bad blood between the two productions, and actually adds that the idea for Quicksilver to be in the next X-Men movie was decided before Whedon revealed that the Marvel Studios production would be using the character. Said Kinberg,
It was previously revealed by actor Josh Helman that at one point the X-Men: Days of Future Past script had Quicksilver's role in the story being played by Juggernaut (another character "who can help them get in and out of somewhere"), so I must say that I'm very curious about the timeline of the character's evolution and how close to the start of production the Quicksilver/Juggernaut swap occurred.
Stay tuned for more X-Men: Days of Future Past in the coming days as a new theatrical trailer is scheduled to arrive online next Tuesday, April 15th.
NJ native who calls LA home; lives in a Dreamatorium. A decade-plus CinemaBlend veteran; endlessly enthusiastic about the career he's dreamt of since seventh grade.
Your Daily Blend of Entertainment News
Thank you for signing up to CinemaBlend. You will receive a verification email shortly.
There was a problem. Please refresh the page and try again.