The Young Messiah Trailer Looks Biblical, Dramatic And Epic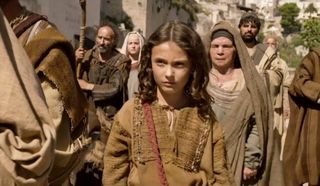 In case you missed it, faith based movies were a big story recently as War Room, a movie that almost no one had heard about previously, and that, by almost all accounts from the mainstream media, is terrible, shocked many by finishing it's debut weekend in the number two spot at the box office race. It then went on to take the top slot the next weekend. Realizing there is, in fact, a market for films of this nature, studios are getting more and more behind them, and FOCUS Features has released this new trailer for The Young Messiah.
As you likely inferred from the title, The Young Messiah tells the story of a young Jesus Christ, the son of God, born to Mary and Joseph, destined to die for the sins of all mankind. From what you see here in this trailer full of swelling music, that's pretty much what you get. And here's an interesting tidbit, this is based on the novel Christ the Lord: Out of Egypt, written by Anne Rice, yes, Interview with the Vampire Anne Rice.
In this tale, Jesus Christ (Adam Greaves-Neal) is portrayed as a seven-year-old boy (before he went AWOL from ages 12 to 30) with an earthly mother, Mary (Sarah Lazzaro), and father, Joseph (Vincent Walsh), who love him. The film dramatizes their struggle as a family to come to terms with the fact that, Jesus is, in fact, the son of God, which must be something for a kid that young to wrap his head around, at the same time they have to contend with angry Romans, including Sean Bean, searching for the Messiah—I'm willing to bet little Jesus wins over Sean Bean in the end.
This struggle with learning about his true nature and accepting his role, is also something that the film is already being called out for. User's on The Young Messiah Facebook page are already taking the movie to task as Biblically inaccurate, citing passages that state that Jesus was born knowing his relationship with The Father, not, as one user puts it, learning about his power later on, like Clark Kent in Superman.
We will have to wait and see if that has any impact on the ultimate performance of the film, which is a good ways off. But after the success of War Room, which has earned more than $40 million against just a $3 million budget, expect to see an increasing publicity push for faith based movies. Another recent entry, 90 Minutes in Heaven starring Star Wars' Hayden Christensen, cracked the box office top ten just last weekend, so this may be the tip of the iceberg as far as marketing is concerned as big studios start to get in on this and try to tap a built in audience. Like any underserved demographic, religious folks have shown that, for the right movie, they're willing to show up at the theater, and Hollywood is realizing there's money to be made there.
In January, Sony's faith-centric arm Affirm Films will release Risen, starring Shakespeare in Love's Joseph Fiennes and directed by Waterworld and Robin Hood: Prince of Thieves helmer Kevin Reynolds. They released a new trailer a few weeks ago that hit a number of mainstream channels. FOCUS Features appears to be following suit with The Young Messiah, getting a head start pushing a film that doesn't open until Easter 2016.
Your Daily Blend of Entertainment News
Thank you for signing up to CinemaBlend. You will receive a verification email shortly.
There was a problem. Please refresh the page and try again.