Zac Efron's New Movie, Mike And Dave Need Wedding Dates, Sounds Hilarious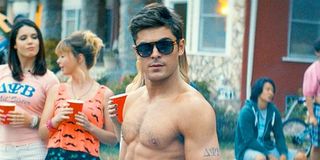 Whether you love Zac Efron or love to hate him, he can be pretty hilarious. He starred in and produced one of the funniest (if not the funniest) movie of 2014, Neighbors, in which he held his own alongside comedy veteran Seth Rogen. The 27-year-old heartthrob with abs of steel is looking to continue his journey through comedic terrain with a new film called Mike and Dave Need Wedding Dates, and perhaps this could be his next big hit.
The news was first revealed by Variety, and this film is pretty self-explanatory: there are two brothers, Mike and Dave, and they need dates to a wedding. The end! Well, there's a little bit more to it than that. To get these dates, the bros post an online ad, which then goes viral. So, it'll be a comedy for Millennials who are obsessed with landing prom dates and such through Facebook posts.
For Efron, Neighbors was bigger than most of us thought. Studios are now looking at him as funny enough to headline raunchier comedies directed to male audiences (i.e. bro movies), and Twentieth Century Fox and production company Chernin Entertainment are hoping to replicate some of that film's magic here. They've even got Andrew J. Cohen and Brendan O'Brien, who co-wrote Neighbors, penning the script for Mike and Dave Need Wedding Dates. As noted by Variety, they're also hoping for a repeat of Melissa McCarthy and Sandra Bullock's The Heat. But that means they just have to find the right guy to play Efron's brother.
So far they've got Jake Szymanski at the helm, and it's his second big-screen directing gig. His first will be The Social Life, which comes out this year and stars Amanda Seyfried and Rebel Wilson. Szymanski is known primarily for his video short work. Aside from helming episodes of SNL and single episodes of Brooklyn Nine-Nine and Bad Judge, he's been working with Funny or Die for quite some time. He even produced Efron's FOD short "Zac Efron's Pool Party" back when he still had those High School Musical Bieber bangs.
In addition to Wedding Dates, Efron is beefing up his comedic resume. He'll be seen next in We Are Your Friends, playing opposite Emily Ratajkowski of Gone Girl and Jon Bernthal of The Walking Dead as a DJ working on his first track. He's also got Dirty Grandpa on the docket with Robert De Niro and Aubrey Plaza, and that one definitely fits into this raunchier comedy category. Efron plays an uptight guy who, right before his wedding, is tricked into driving his dirty, former army general grandpa to Florida for spring break. We're loving Efron's next lease on life, and if these movies are anything like Neighbors, than you can already pre-order tickets for us. (Yes, Neighbors was that good.)
Your Daily Blend of Entertainment News
Thank you for signing up to CinemaBlend. You will receive a verification email shortly.
There was a problem. Please refresh the page and try again.