Spider-Man: Homecoming May Have Found Michael Keaton's Partner In Crime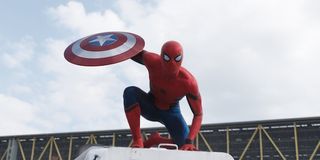 While Spider-Man: Homecoming's castings have been slowly trickling in over the last couple months, there's still plenty of mysteries regarding Spidey's first solo adventure in the Marvel Cinematic Universe. One of the bigger mysteries is the identity of Michael Keaton's character. It's been said that the former Batman will play the lead villain, and while said villain's identity hasn't been officially revealed yet, it looks he won't be the bad guy in Spider-Man: Homecoming, as Prometheus actor Logan Marshall-Green may be thrown into the mix as well as another evildoer.
Although Logan Marshall-Green's character wasn't named in the report, THR states that he'll be partners-in-crime with Michael Keaton's lead baddie. This makes Spider-Man: Homecoming the third Spider-Man movie to feature multiple super villains, following behind Spider-Man 3 and The Amazing Spider-Man 2. Marshall-Green's most prominent recent role was playing Charlie Holloway in 2012's Prometheus. His other credits include As I Lay Dying, Madame Bovary and The Invitation, as well as recurred on the TV shows 24, The O.C. and Dark Blue. Should he be cast, he would join a lineup that also consists of Tom Holland, Marisa Tomei, Robert Downey Jr, Donald Glover and more.
Going off this report alone, it's nearly impossible to discern who Logan Marshall-Green's villainous character is, let alone what schemes he'll be plotting with Michael Keaton's character, but there's an unofficial tidbit of information that needs to be considered. It's been reported for several months now (but not officially confirmed) that The Vulture is the main antagonist in Spider-Man: Homecoming, so it stands to reason that's who Keaton will play. However, a few week ago, it was reported that The Tinkerer would be a supporting villain in the movie. Tinkerer will allegedly help Vulture build his flight suit using Chitauri technology left over from the Battle of New York in The Avengers. While this exact details may not be legitimate, being the "tech guy" would be one way for him to participate without hogging Keaton's malevolent spotlight.
Tinkerer was one of the first super villains Spider-Man battled in the comics, but the original character is much older than Logan Marshall-Green. However, these superhero movies are adaptations, so going with a younger version shouldn't be an issue as long as Spider-Man: Homecoming stays faithful to the character. Of course, there's no guarantee that Marshall-Green would play Tinkerer. If all goes well, he may playing another secondary member of Spider-Man's rogues gallery, as there's certainly a lot to pick from. We'll keep you apprised about who this anonymous character is, as well as if Marshall-Green will indeed play him, as more information comes in.
Spider-Man: Homecoming swings into theaters on July 7, 2017.
Your Daily Blend of Entertainment News
Connoisseur of Marvel, DC, Star Wars, John Wick, MonsterVerse and Doctor Who lore. He's aware he looks like Harry Potter and Clark Kent.