Who Batman Likely Will Fight As The Main Villain Of His Solo DC Movie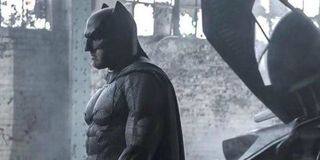 The Dark Knight has one of the deepest rogue's galleries of any superhero in existence. He has villains who pose mental threats, psychological threats, and purely physical challenges. However, Deathstroke a.k.a The Terminator happens to pose all three of those threats in one deadly package. Fresh off the heels of the revelation that Slade Wilson will soon debut in the DCEU, we've also learned that he will take on the role of primary antagonist in the upcoming Batman solo movie. It's a great time to be a nerd.
The Wrap reports that Slade Wilson a.k.a Deathstroke won't just make a quick appearance when he finally debuts in the DCEU. He's going to take on a central role as the primary villain in the upcoming Batman solo movie. We already know that the iconic assassin for hire will appear in the DC Extended Universe -- thanks to Ben Affleck's Tweet earlier today -- but now it seems that his role will be far larger than we could have ever imagined. Bring on a badass showdown of wits, muscle, and weaponry.
At this point it remains unclear where the above footage of Deathstroke actually comes from. On one hand, he could receive an introduction during the events of Justice League (or during a mid-credits sequence). On the other hand, this clip could also be test footage for the Batman solo movie. The deadly assassin appears to be in the Batmobile's runway in Batman's subterranean lair, so it looks as though Deathstroke may have received a useful tip regarding Batman's identity from Lex Luthor (or even Amanda Waller). Anything is possible.
Deathstroke has long existed as a fan favorite character. He debuted all the way back in 1980 as a villain of the Teen Titans, and over the years he has had deadly run-ins with all sorts of DC heroes and villains; he has even managed to single-handedly take down the entire Justice League. Sometimes he takes on the role of a straight-up villain, while other narratives have given him a far more tragic, anti-hero characterization. Despite the slight differences here and there, he has become an incredibly popular character deserving of the silver screen treatment.
As a character, Slade Wilson has also experienced an immense surge in popularity over the last few years. He made prominent appearances in the Arkham Origins, Arkham Knight, and Injustice video games, as well as numerous animated films such as Son of Batman. More importantly, he saw widespread exposure to mainstream audiences when portrayed by actor Manu Bennett in the Arrow-verse. His arrival on the silver screen should come as little surprise, as DC television specifically retired the character from the small screen to make room for his inevitable debut in the movies - not unlike Task Force X.
However, knowing that Deathstroke will face off against Batman in the upcoming Batman solo movie doesn't do much to inform the plot. Previous reports have already indicated that the film will feature numerous villains, meaning that there are still plenty of secrets left for the film to unveil. Sure, Deathstroke is coming, but he could also bring along other villains like Will Smith's Deadshot, Jared Leto's Joker, or some other previously unseen antagonist. Only time will tell.
Of course, we still don't have any concrete information regarding who's currently under the orange and black mask, but a closer look at the details may indicate that a long-rumored actor may finally have taken on the role of Slade Wilson...
Actor Joe Manganiello posted the following photo to his Instagram account two days ago. Although it's a seemingly innocent date night selfie with his wife, Sofia Vergara, we think there's some solid evidence for his casting as Slade Wilson.
For starters, Manganiello has changed his hairstyle to a crew-cut/goatee combination that's somewhat atypical for the actor, but completely in-line with the overall visual aesthetic of Slade Wilson. Beyond that, the caption of the photo states that they're having "afternoon tea," which means that they could potentially be indulging in a widespread cultural tradition in London -- where Justice League is currently filming. For now we have to treat all of this as speculation and rumor, but there's certainly evidence to convince us of Manganiello's involvement in the DCEU.
CinemaBlend will bring you more information concerning Deathstroke's involvement in the DCEU as more details become available to us. Justice League will hit theaters on November 17, 2017, the release date for the Batman solo movie is still TBA.
Your Daily Blend of Entertainment News
Originally from Connecticut, Conner grew up in San Diego and graduated from Chapman University in 2014. He now lives in Los Angeles working in and around the entertainment industry and can mostly be found binging horror movies and chugging coffee.