The Rock Just Revealed His Jumanji 2 Character, And He Looks Incredible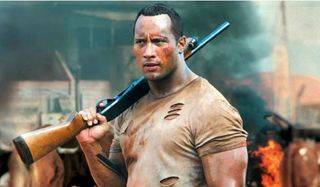 Dwayne "The Rock" Johnson isn't a man to rest on his laurels. Which is why, even though he was recently named the world's highest paid actor, the Central Intelligence and Furious 7 actor is currently hard at work on a number of new big-screen projects. The most anticipated of which is clearly Jumanji 2. Hot off the heels of announcing that Karen Gillan has joined the cast, Dwayne Johnson has now given us our first look at his character in Jumanji 2. Which you can take a gander at below:
Now, obviously, one of the main inspirations for Dwayne Johnson's look as Dr. Bravestone in Jumanji 2 is that of Harrison Ford in the Indiana Jones trilogy. Especially because The Rock is just one bull-whip away from having the greatest Indy fancy-dress costume of all time. I mean, just look at that fedora.
Dwayne Johnson was so excited to share the latest update for Jumanji 2 that he posted the work of the film's costume designer Laura Jean Shannon to his Instagram account. Quite clearly The Jungle Book, Iron Man, and Requiem For A Dream costume designer was given a remit to modernize the look that Robin Williams had in the original film, while it also appears as though The Rock rejected the opportunity to don a huge beard like his predecessor.
Dwayne Johnson wasn't completely happy with the image, though. Sure he's more than likely over the moon with Dr Bravestone's attire for Jumanji 2, especially those leather gloves, because if he wasn't he wouldn't have shared it. No, Johnson's issue was that the drawing of him didn't amplify or show off his ample pectoral area. Instead, it made him look rather flat chested.
While there was undoubtedly some trepidation after it was announced that Dwayne Johnson was hard at work on some sort of follow-up to Jumanji, the recent casting announcements, as well as the revelation that it will be a continuation of the original has recently helped to hugely increase excitement.
While Dwayne Johnson, who over the last few years and months has firmly established himself as one of the biggest actors in the world thanks to Furious 7, San Andreas and Central Intelligence, as well as the impending Moana, Fast 8, and Baywatch, will take the lead role in Jumanji, over the last few months it was announced that he will be ably assisted by Kevin Hart, Jack Black, Nick Jonas, and Karen Gillan.
Such an eclectic ensemble is exciting because Johnson's prowess as a leading man in the action genre has long been proven, while the thought of comedic heavyweight Jack Black and Kevin Hart sharing the screen together is particularly appealing. Add it all together and it should be nothing but fun. We'll finally get to see if Jumanji 2 can build upon this excitement when it's finally released on July 28, 2017.
Your Daily Blend of Entertainment News
Your Daily Blend of Entertainment News
Thank you for signing up to CinemaBlend. You will receive a verification email shortly.
There was a problem. Please refresh the page and try again.