Young Willy Wonka Is Getting A Movie Because Hollywood Doesn't Learn From Its Mistakes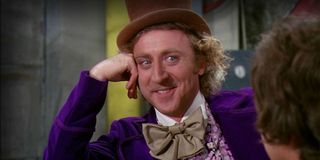 Because it's harder nowadays for movies based on original stories to succeed at the box office, this has forced studios to often turn back to preexisting intellectual property. Sometimes that works out, but in other cases, we're left wondering why someone would approve revisiting the material. Unfortunately, we fear Willy Wonka will soon belong in the latter category. It's been a little over a decade since Johnny Depp played the eccentric candy mogul in Charlie and the Chocolate Factory, but Warner Bros has decided to revisit the character, only this time, the story will be in his younger years.
Earlier today, Variety dropped the news that Warner Bros has obtained the rights to the Willy Wonka IP from the Roald Dahl estate, and their first order of business is to release a reboot. However, unlike 1971's Willy Wonka & the Chocolate Factory and the 2005 remake, this movie will be a standalone tale focused on his "early adventures." Just to be clear, though, this will not be Willy Wonka: Origins, i.e. we won't see him rise up from adversity and grow into the weird figure we all know and love. However, the report notes that if the reboot is successful, other characters from the Wonka universe, like Charlie Bucket, could be included in potential sequels. Fantastic Beasts and Where to Find Them producer David Heyman will executive produce the project with Michael Siegel, manager of the Dahl estate, while The Secret Life of Pets writer Simon Rich has been tapped to pen the script.
Many of you already know this, but to the few who haven't, here's the thing: not everything benefits from the reboot treatment! Especially when it's a property that was re-explored not that long ago. When it was announced last decade that Charlie and the Chocolate Factory was coming out, that at least made some sense. It had been more than 30 years since the original movie was released, and under Tim Burton's direction, the tone was obviously going to be different. This, on the other hand, reeks of desperation. Just because Willy Wonka is a colorful character doesn't mean that we need to know what he was doing before he ran that chocolate factory and ruled over the Oompa Loompas with an iron fist (I may have exaggerated on that latter one).
Besides, it's not like Warner Bros is lacking for franchises and cool intellectual property at the moment. The DC Extended Universe is underway, Fantastic Beasts and Where to Find Them is delving into a new corner of the Wizarding World next month and their Godzilla/Kong universe is expanding in the coming years. And that's just naming the properties that have multiple movies on the way. Still, there's always a possibility that this new Willy Wonka movie could turn out to be a fun watch, but at the moment, we're scratching our heads about why the studio decided to go in this direction.
We'll keep you apprised of how the new Willy Wonka movie is coming along as more details come in, but for now, let us know what you think about the announcement in the comments below.
Connoisseur of Marvel, DC, Star Wars, John Wick, MonsterVerse and Doctor Who lore. He's aware he looks like Harry Potter and Clark Kent.
Your Daily Blend of Entertainment News
Thank you for signing up to CinemaBlend. You will receive a verification email shortly.
There was a problem. Please refresh the page and try again.