To 3D Or Not To 3D: Buy The Right Doctor Strange Ticket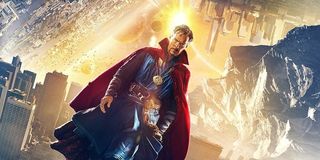 Marvel fans, rejoice! Your latest dose of Marvel Cinematic Universe goodness has arrived, administered by the Sorcerer Supreme, Doctor Strange himself! And with a new Marvel film comes a very familiar quandary: to 3D, or not to 3D? Normally, we'd be inclined to outright write off a Marvel flick in 3D, as historically they mostly have been wastes of money (with some exceptions). But the powers that be in the Marvel Studios camp have been touting Stephen Strange's journey into the mystical as the MCU film to watch in 3D. Kevin Feige has talked a pretty good game, but can the film live up to it?
That's what we're here to learn today, so if you're looking for our review of Scott Derrickson's magical odyssey, you'll want to click here for our own Eric Eisenberg's write-up of the film. However, if you're here to see if Marvel Studios has delivered on their three-dimensional promise, you're in the right place. So align your chakras and open your third eye, as we evaluate the 3D presentation of Doctor Strange!
Comic book movies and 3D are like peanut butter and chocolate. Superpowers should be a tremendous delight in 3D, but Doctor Strange is a pretty big prospect when it comes to the format, as time, space, and dimensional fabric are all tinkered with to great lengths. With both the trailers and the special 15 minute IMAX preview showing off what the film was capable of, 3D has always seemed like a safe bet for Doctor Strange.
Someone at Marvel must have been overhearing all of the slams that the critical and film-going community have put to paper when it comes to their previous 3D presentations, because both the IMAX and 3D format have been an obvious priority for the production of Doctor Strange. Not only has the film been specially formatted to fill the entire IMAX screen, it's also been carefully converted into the third dimension. Marvel Studios talked up the 3D aspect as an essential to the viewing experience on Doctor Strange, so this was clearly more than a standard post-conversion job.
There are a lot of objects flying through the course of Doctor Strange's running time, and they are living proof of Marvel's improvement in the 3D realm. In particular, the initial car wreck from Stephen Strange's backstory is a particularly harrowing moment, with his car and the debris it generates flying out at the audience. Also, environmental factors, like snow, rain, and even auras of various characters stand out quite brilliantly. Sadly, the "flinch test" doesn't pass though, as there wasn't one moment that made me close my eyes in terror.
For those of you who value image depth over things flying out of the screen, and towards your head, Doctor Strange is your movie! The absolutely stunning images of dimensions beyond space and time, as well as all of the settings anchored in our reality, come to life with extremely impressive depths. Watching a building transform before your very eyes is enough to impress, but when you have climactic battles in two major cities with an ever shifting landscape in play, it's a true thing of beauty when the depths match the infinite nature of the playing field.
There are such bright and funky colors in the palette of Doctor Strange's visual storytelling, and it's all thanks to the source material devised by series artist Steve Ditko. For those of you expecting the presence of such colors in the film's imagery, you won't be disappointed. However, what will disappoint you, sadly, is the brightness of the 3D presentation. While your mileage may vary in this aspect, especially considering the fact that some theaters may not properly calibrate their 3D projectors properly before a new showing, there's a good chance you'll be seeing a very dim picture.
Doctor Strange is blur city, folks! There is a lot of blurring throughout the various backgrounds of the film's impressive field of depth, with the ever transforming buildings and environments looking even more complicated as you watch the film without your 3D glasses. Also, one particular sequence involving the repeated appearance of the good doctor himself is pretty blurry if viewed without your glasses, as well. If there's a good sense of blurry imaging, there's a good chance you've got an even greater sense of depth, and this film is chock full of it.
I don't know if it was the darkness, or maybe even the fact that a good portion of the film is viewed with the traditional "letterbox" aspect ratio, but there were a lot of times where my eyes felt a little strained while watching Doctor Strange. For a film that was specially converted to the full IMAX ratio in certain sequences, it felt like the film would have been better served to have gone either full IMAX throughout, or at least with a ratio closer to full IMAX without going all the way, so as to preserve the spectacle of those sequences that go the full mile.
If there was ever a film that needed to be seen in 3D, it's certainly Doctor Strange. Marvel has stepped up their 3D game to no end, and while there's still elements that need a little more tweaking, the usage of the format really does carry this film out of this world, and into the next. Don't hesitate to book an IMAX 3D screening for this weekend, as the aspect ratio and sound tweaks in large format really do go well with this 3D masterwork..
Your Daily Blend of Entertainment News
Senior Movies Contributor
CinemaBlend's James Bond (expert). Also versed in Large Scale Aggressors, time travel, and Guillermo del Toro. He fights for The User.