Why Vince Vaughn Wanted His Hacksaw Ridge Drill Sergeant To Be Such A Hard Ass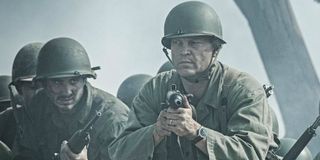 Few modern actors have developed a reputation for playing fast-talking, foul-mouthed characters quite like Vince Vaughn. However, up until now those performances have primarily been played for laughs. In Mel Gibson's Hacksaw Ridge, Vaughn takes a noticeably different approach by portraying his character, Sergeant Howell, as a bona fide hard ass. It turns out that, while much of the character was already formed in the script, he improvised quite a bit to sell the audience on the reasons for Howell's toughness. During a recent interview with CinemaBlend, Vaughn elaborated:
During the recent press junket for Hacksaw Ridge, I asked Vince Vaughn about the method behind the overall creation of the film's tough-as-nails drill sergeant. There's a certain degree of humor to his boot camp scenes that feels rooted firmly in the silver screen history of war movies -- particularly R. Lee Ermey's scenes in Full Metal Jacket. Mel Gibson apparently allowed Vince Vaughn to do quite a bit of improv as Sergeant Howell, and the actor approached it by viewing these taunts and insults as a vital way of preparing Desmond Doss (Andrew Garfield) and his unit for the horrors of Okinawa.
Of course, there's a pretty important reason why Sergeant Howell would want to ensure that his men have been properly prepared for war: he fights alongside them on the battlefield. The character plays a central role in the emotional and narrative arc of Hacksaw Ridge, and in many ways he acts as a sort of chorus for Andrew Garfield's Desmond Doss. As an audience we watch him lay into these soldiers during their training, but as he ships off with them we get a much stronger understanding of why he was so hard on them in the first place.
Although Vince Vaughn is definitely no stranger to the act of improvisation, Hacksaw Ridge certainly presents him with an entirely new genre. Despite his lengthy filmography, he hasn't done much in the war genre over the course of his career. With a strong script, and a director willing to let him play around with his character, Vince Vaughn really sells the idea of a military man who wants to mold and shape these young men.
Check out a video of my conversation with Vince Vaughn and Luke Bracey below to get a better sense of how Vaughn approached the role of Sergeant Howell, and how it impacted Bracey's character:
The role of Sergeant Howell is unquestionably new territory for Vince Vaughn, but it's also clear that he invested quite a bit of himself into the part. His preparation appears to have paid off, as Howell is one of the memorable on-screen drill sergeants in recent memory. Hacksaw Ridge is now in theaters; make sure to check it out!
Your Daily Blend of Entertainment News
Originally from Connecticut, Conner grew up in San Diego and graduated from Chapman University in 2014. He now lives in Los Angeles working in and around the entertainment industry and can mostly be found binging horror movies and chugging coffee.