Watch Scarlett Johansson Try On Her Cyborg Body In NSFW Ghost In The Shell Scene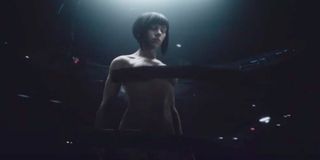 Fans of the classic Japanese anime Ghost in the Shell have been worried that a live-action movie will not do the original justice. However, it seems clear that the remake is taking a lot of inspiration from its source material. The opening sequence which shows the creation of Scarlett Johansson's android character has been released and fans of the anime will find a great deal of it to be familiar. And just like that version, this one is NSFW.
The scene was shown at a press event in Japan and made available by IGN. It follows the creation of Motoko Kusanagi from the cybernetic skeleton, all the way to the creation of the human "shell" that makes her look, at least externally, like everybody else. Of course, most people have clothes on, something that the opening of Ghost in the Shell doesn't deal with quite yet.
One of the difficulties with remakes is that not everybody expects the same things from them. While fans of the original certainly want something that respects the source material, not everybody agrees on how to do that. Do you make a live-action movie that uses identical scenes or do you try to make something that keeps the spirit of the original, but tries to be its own movie? A scene that's this close to the original might make a lot of fans happy, but it's so similar to the original that it might actually upset others who don't want the remake to try and actually recreate the same film and be seen strictly as a movie trying to cash in on its predecessor's popularity. If you're curious just how close the new sequence mirrors the old, check it out below.
Up to this point, everybody pretty much expected that the new Ghost in the Shell would be another in the long line of PG-13 action movies, however, the one thing this scene does is imply that this may not happen. When the original anime was rated by the MPAA it was given an R-rating due to its violence and animated nudity. It's hard to gauge how the MPAA could view a scene like this. While this isn't exactly nudity, it's awfully close, and depending on how much we see in the complete film it could be that the new movie is going for R-rating just as its predecessor had.
What do you think about the new Ghost in the Shell does seeing this homage to the original give you more hope for the film as a whole? Let us know in the comments.
Your Daily Blend of Entertainment News
Content Producer/Theme Park Beat
CinemaBlend's resident theme park junkie and amateur Disney historian. Armchair Imagineer. Epcot Stan. Future Club 33 Member.