How Scarlett Johansson's Work As Black Widow Assisted Her Ghost In The Shell Training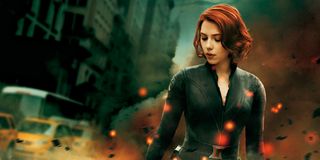 Thanks to her numerous roles as the Black Widow in the Marvel Cinematic Universe, Scarlett Johansson has already proven herself more than capable as an action star. Unfortunately, that's still not been enough for Kevin Feige and the studio to give the actress her own solo film as the character. Scarlett Johansson is now able to finally scratch that itch with Ghost In The Shell, and she's now admitted that her tenure as Black Widow actually assisted her training for the upcoming film.
Scarlett Johansson made this revelation during the launch of Ghost In The Shell's first trailer at an event in Tokyo on Sunday, which I was lucky enough to attend. The build-up to the footage also included a Q&A with Scarlett Johansson, her co-star Takeshi Kitano and director Rupert Sanders, during which the actress was asked about her training for the film. This led her to respond with:
While just like Black Widow, Ghost In The Shell's The Major clearly knows a thing or two about throttling and dishing out a beating to her foes, that's pretty much where the comparisons end. That's because The Major is a synthetic cyborg that leads the elite task force Section 9 in a bid to stop criminals and extremists in a futuristic Tokyo, who also happens to have had a human brain inserted into her metal skull.
As well as the Q&A and an exhibition for the film's costumes, weapons, and concept art, the first trailer for Ghost In The Shell also finally premiered at the event. It just so happened to be pretty darn stunning, too, and you can check it out in all of its glory below.
Ghost In The Shell will be with us on March 31, 2017, but before then make sure to keep glued to CinemaBlend over the next few days for further stories from the film's Tokyo event.
Your Daily Blend of Entertainment News
Thank you for signing up to CinemaBlend. You will receive a verification email shortly.
There was a problem. Please refresh the page and try again.