How Marvel's Kevin Feige Feels About Recasting The MCU's Top Actors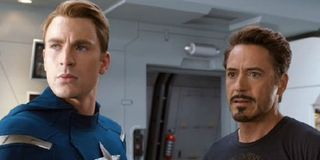 It is hard to keep track of just how long the likes of Robert Downey Jr., Chris Evans, and Chris Hemsworth are contracted to Marvel. But from the sound of things, we don't have to worry too much about new actors portraying Iron Man, Captain America, or Thor anytime soon, because Kevin Feige has insisted that each actor is signed up for several more movies, while at the same time teasing that there's a plan in place for when they do have to replace these actors.
Marvel Studios' president made this revelation while talking to Variety, who straight out asked Kevin Feige whether or not Marvel will decide to recast their biggest superheroes once the actors decide to move onto pastures new. This provoked Kevin Feige to respond with:
Kevin Feige's comments suggest that there isn't anything on the horizon that will rock the Marvel boat, which over the last eight years has seen the studio's 14 films gross more than $10 billion across the world. Kevin Feige and his Marvel cohorts have done a sensational job of evolving the Marvel Cinematic Universe, bringing in the likes of the Guardians Of The Galaxy, Ant-Man, and most recently Doctor Strange to join Iron Man, Thor, and Captain America, all while the studio's popularity goes from strength to strength.
But Kevin Feige and Marvel's biggest task will come when trying to match the success of The Avengers and Captain America: Civil War without the presence of either Robert Downey Jr. and Chris Evans, who have not just embodied their respective characters iconically, but have also injected them with a humor, morality, and relatability that audiences have chimed so passionately with.
Sure, Kevin Feige is right that Sherlock Holmes, James Bond, and Batman have managed to maintain a popularity that transcends the actors who portray them. However they were all part of their own singular universe. Tom Holland's Spider-Man palling up a different Iron Man or Captain America is going to take some getting used to, and the movie industry is so fickle that one bad move could lead to the entire universe imploding. That's obviously a worst case scenario, but it's probably going to be a bit more complicated than Kevin Feige alluded to in his comments. Thankfully, Feige clearly has a bit of time to figure out the right move, while he's also shown quite a knack for steering the Marvel Cinematic Universe in the right direction.
Your Daily Blend of Entertainment News